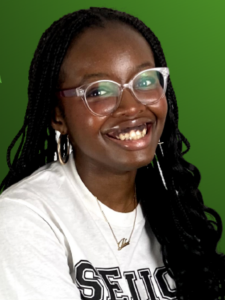 My hot take on this week's hashtags? The Christmas Spirit is spiriting because the immediate switch on my FYP from Halloween vibes to everyone having already defrosted Mariah and singing "Jingle Bell Rock." I'm not complaining though; the need for the holidays is a feeling I know all too well. 
One feeling I don't know, however, is the embarrassment those restaurant owner's must've felt after Keith Lee visited their establishments and ate them up (Keith Lee'd style). He visited multiple restaurants including Old Lady Gang, owned by Real Housewives of Atlanta star Kandi Burruss and commented on the staff giving him special treatment when he entered versus when he had his family go in. Side eye. From him sharing his experience, celebrities like Cardi B have since come out expressing their views on how some Atlanta restaurants care more about social media appearance rather than food and service. Hopefully this was a learning experience for all restaurants to step it up and give their customers quality service and food regardless of who they are. 
Side note, I'm not sure if my TikTok is giving glitchy because I now have five sections when I first open the app, which are the FYP, Shop, Following, Explore and STEM. Now, I've been doing my research and so far, I've not seen anyone talk about how pretty it is. It's like the FYP but lowkey better because it's strictly things that relate to things user's are interested in from an aesthetics standpoint. 
Now follow this: My favorite creator of the week is Nia Ivy. She is a content creator who mimics Nicki Minaj's voice almost identically. She is hilarious and the first video of hers I saw was her being home alone having a full blown concert in her living room. Her content is truly for the delulu people and we love that.