A History of "Girl____"
According to "Root Source: Girlboss," by Annenberg Media,  the term "Girlboss" came to mass public consumption in 2014 when the clothing brand Nasty Gal's CEO Sophia Christina Amoruso published her book titled "#GIRLBOSS." The book became a New York Times best-seller, and eventually a Netflix series of the same name. By the CEO's definition, being a "Girlboss is being the boss of your own life," Amoruso said.
Over time, the definition of the term has grown and changed. Especially now, in the age of fast media outlets such as TikTok, Instagram and X (formerly Twitter).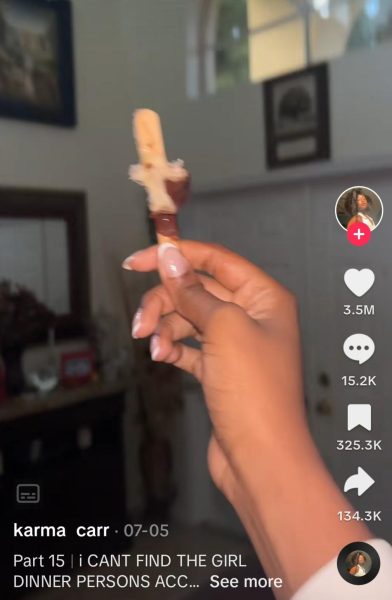 In recent months, several new phrases beginning with "girl" started to enter the Gen-Z vernacular, such as "girl math" and "girl dinner." "Girl dinner" was brought to fruition through TikTok creator Olivia Maher in July 2023, when the creator posted a video with an original song with the lyrics: "This is my meal, I call this girl dinner."
"Girl math" entered the equation shortly after "girl dinner" in August 2023. According to an article by the Huffington Post, "What is 'Girl Math'? The Viral TikTok Trend, Explained," it originated from the popular New Zealand-based radio show. An individual called in and talked about her recent expensive purchases. The show hosts then broke down the prices by how often the items or experiences would be used or regarded in a joking manner, insinuating that making irresponsible purchases is okay due to the concept of "girl math." The phrase quickly caught fire on TikTok, and many other creators shared their examples of "girl math."
 Importance of Context in Language
I've heard the argument that there is nothing wrong with the phrase "girl dinner," however, it is clear when looking at the top posts, the meals are small and unbalanced. There could be several reasons for this, but the one that stands out to me the most is the culture of stick-thin supermodels we still live in. Despite the new age of popularized body positivity, "girl dinner" is a direct contribution to the centuries of women being forced to conform to beauty standards. Even if we're not realizing it, we've put ourselves into the same box we have been trying to force our way out of. 
Calling diet culture "girl dinner" does not change anything if the meals are still small and unbalanced. 
I've seen "boy dinner" once. That's all.
 On to the older term "girlboss," which is the predecessor to its younger ancestors. 
Why does the term "girl" have to go in front of the word? Why can't a woman just be a boss without having to assign the word a completely different definition? 
Once again, instead of pushing for equality, we have to draw to attention the fact that we are women taking control, rather than just existing in a state that needs no attraction. 
We don't use the term "guy boss," we just say that a guy is a boss. Not even using the word "a" most of the time. He's "the" boss.
Furthermore, why is the descriptive term "girl?"
The term girl is used to describe children, little girls. It's belittling to call a woman a girl. 
So why do we use it? Is it the same patriarchal idea that women must remain young as long as possible, and show no sign of aging? 
We don't use the term "guy boss," we just say that a guy is a boss. Not even using the word "a" most of the time. He's "the" boss.
While it could be just to be catchy, when you follow the route it leads back to the patriarchy. While phrases like these seem innocently comedic, when we place "girl" in front we're making ourselves seem lesser, damaging our reputations as women.  
 The way "girl math" and "girl dinner" have been defined puts women in a lower position than men. "Girl math" is broadcasted as women making poor financial decisions. "Girl dinner" is depicted as women eating small, unsustainable meals.
We are making ourselves something separate from other genders. 
Being a "girlboss" is different than just being a boss.
"Girl dinner" is separated from dinner. 
"Girl math" is separate from regular math. 
The consequences of our words and actions define these terms.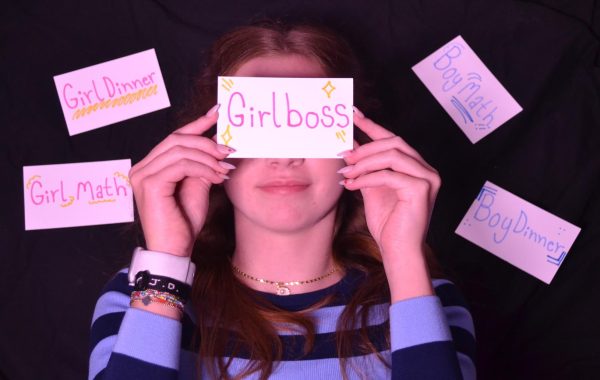 The History of Feminism
According to "What Are the Four Waves of Feminism," by  History.com, Feminism has been through four waves.
The first wave began in the 1940s to fight for women's right to vote. 
The second, the 1960s for women in the workforce. 
The third, in the 1990s fighting against sexual harassment in the work place.
Today, within the fourth wave of feminism,  we still grapple against sexism, sexual harassment, unequal pay and many other still-existing systems of patriarchy. 
Conclusion: A Denunciation 
What would our feminist predecessors think of us? What would Judith Sargent Murray, author of one of the first American feminist documents "On the Equality Of the Sexes," say about us? What leaps and bounds of female education was she praying for when she wrote "Suffer me to ask in what the minds of females are so notoriously deficient or unequal?" 
I've heard the phrases "boy math"  and "Baptist math," however, when it's spoken, women become the punchline because those other groups don't have the history of repression women have experienced. 
The key term is unequal – we don't need two versions of math. Or bosses. We are educated women. We have the ability to attend school, go to college, have credit cards in our own names, own driver's licenses, drink alcohol, have a job, be in the military, protect ourselves from workplace harassment, receive mental health care, serve as a judge and do so much more that women in other countries don't get. 
How can we put ourselves in a lower position than men, when as American women we have access to much more than so many other parts of the world?
Women are better than settling for being lesser than men. I've heard the phrases "boy math"  and "Baptist math," however, when it's spoken, women become the punchline because those other groups don't have the history of repression women have experienced. 
I am all for taking back femininity, however, as we're taking it back and defining our power, we need to be careful to not establish our power as anything else but equal. All eyes are on us, constantly. Whether you're a famous woman in the public eye or just a high school student, we have to be careful with the way we define ourselves. It's important to follow the root of our language and not allow ourselves to be put back into a box as "girl."
Take the girl out.
Just be a boss.
Be the boss.