OPINION: Thanks, you gave our program a headache
Impersonating a yearbook staff member is disrespectul and reputation-damaging
Editor's Note: In addition to being the MHS Legend yearbook's Managing Editor, junior Rebekah Bushmire is also the Trail's Editor-in-Chief.
On Feb. 28, a member of the McIntosh Legend yearbook staff was notified by a student who had received a text message from an unknown sender, who was claiming to be from the "yearbook club," asking if that student would answer some questions "about our school."
The Legend yearbook staff were not the ones who sent those texts.
As the managing editor and three-year staff member of the Legend yearbook staff, I am extremely frustrated at the situation. The Legend yearbook staff is a professional, award-winning program with a product that has a yearly budget of more than $112,000. Our last two covers received national recognition for their design; the 2021 Legend was the highest-scoring yearbook in the state of Georgia, through the Georgia Scholastic Press Association (GSPA).  Our staff has won All-Georgia awards for their photography, writing and graphic design. The 2022 Legend was rated First Class with a Photography Distinction from the National Scholastic Press Association.  I am the Student Press Law Center's New Voices Georgia Representative, where I speak on behalf of all of Georgia's student journalists, and I am a GSPA Ambassador as a representative for the state's student journalists. Our adviser sets a professional example for us; she is a Certified Journalism Educator, is a member of the Journalism Education Association and was named a JEA Rising Star adviser in 2020 and was GSPA's  Adviser of the Year in 2022.
I want to thank the majority of the student population for supporting the staff by giving up a few minutes of their time during lunch to be interviewed, for giving up their study hall or coming to our photo lab for photoshoots and for buying 950 copies of the book every year. These Chiefs are understanding about how much effort the 27-member staff puts into creating a 374-page book.
However, it is situations like what happened, when a student claiming to be from the yearbook staff when they aren't, with ill-intent, that can damage our relationship with students, administration and the community. We spend thousands of hours, from June to May, designing, building, writing, researching and photographing the yearbook and the audacity that someone must have to impersonate a staffer is disrespectful as it discredits us and our program.
When any staffer from McIntosh Student Media reaches out to students, we reach out in a professional manner, so if you ever received a text late at night in such an obviously unprofessional way, it is definitely not a message from us. If you're ever unsure if you're being asked for an interview, you can contact me at 20[email protected] and I will confirm the information.
The actions of this person caused a pretty big headache for me personally and for our program. While at this moment, an adolescent joke like this might seem like nothing, it could majorly damage our state and our national reputation. It seems innocent at first –  but that is only until a parent shows up in the front office asking why their child is receiving inappropriate questions for "the yearbook." Rather than have us focus on making sure all 1600 MHS students are represented in the book, that their photo is correct and so is their name, every time it appears, rather than spend time researching sporting events, planning to cover all the activities and events on campus, rather than identifying people in photos and tracking them down to be interviewed… we have to take time out of all of that to get to the bottom of the situation. And still meet our deadline so that students can have their yearbooks on time in May.
Our job as journalists is to seek the truth and report it with accuracy. We follow the Society of Professional Journalists Code of Ethics. Our goal with the yearbook is to immortalize the year and we want to create something that will put our high school memories into paper and ink so we can look back on them with historical accuracy in the future.
I am extremely disappointed that our name was used to try and get inappropriate information from another student – a minor student. I want McIntosh to know that we are not disrespectful, crude or unprofessional. Legend staffers are just like you: we are in AP classes, or in dual enrollment; we play sports and are in the musical; we're club leaders and team captains, have jobs and college applications due. We're human, just like everyone else on this campus. But we also have a responsibility to write, photograph and design a 374-page yearbook, on time, and under budget, on top of all our classes and activities while still having a life.
Please don't make that life harder for us.
Donate to McIntosh Trail - The Student News Site of McIntosh High School
Your donation supports the student journalists of McIntosh High School. Your contribution will allow us to purchase photography equipment and cover our annual website hosting costs.
About the Contributor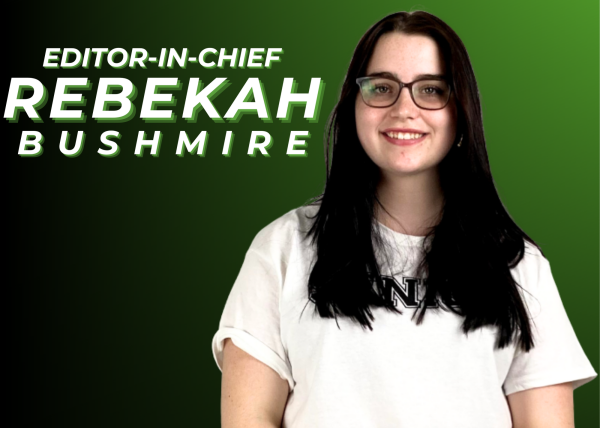 Rebekah Bushmire, Editor-in-Chief
Rebekah Bushmire has been on The Trail staff for four years and will be serving as the editor-in-chief for the 2023-2024 school year, as well as the managing...