Opinion – New Chromebook Welcome Page is Pointless
As a result of the most recent update to McIntosh students' Chromebooks, a new welcome page has been added. Once a student opens up their Chromebook and powers it on, the student will need to log in as usual. After entering their password, they will be presented with the new welcome screen. The page consists of the McIntosh logo and important school announcements.
Although this screen may be a great show of school spirit to further emphasize each student's love for McIntosh, it does not have much usefulness. Clicking on the image takes the user to the next slide where information is displayed. As of the time of writing this article, there was only one informational slide that was related to PSAT day. There were two links that took you to the PSAT day student locator and the PSAT day bell schedule.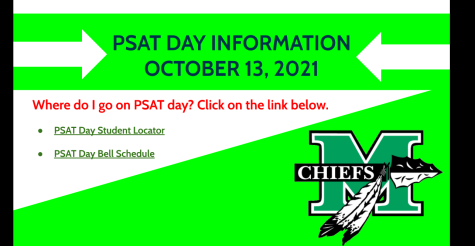 This page may seem somewhat helpful; however, it does more harm than good. This welcome page deletes all of the tabs you had open at the moment you shut off the computer.
Some students at Mcintosh have voiced their dislike for this new feature: "It deletes tabs that were previously open… like the 15 college tabs I was looking at," senior Hinako Watts said in an Instagram poll.
The information that was being displayed to all students who open their Chromebooks [PSAT day student locator] was also being shared with students through email. If the information has already been shared through other means, this welcome page is trivial. The Chiefs Connection is a weekly email sent to all students through Infinite Campus listing important events and or details that might be important for students to know. Other details such as the PSAT bell schedule can be shared through the same Chiefs Connection.
According to the Fayette County Board of Education website, the goal of issuing all students their own Chromebook is to "utilize technology services for the efficient operation of all functions of the school system," the FCBOE said on their website. This new update does not accomplish this goal. It does the opposite, making the Chromebooks less efficient for each student.
In a social media poll, posted on the @mcintosh.trail Instagram; feedback on the welcome page was predominantly negative. 97% of students who participated in the poll said that they do not like the welcome page.
"How do I turn it off?" asked freshman Stella Gerson in the poll.
If crucial information needs to be shared with students there are other forms of communicating such details. Through email is one good option as previously stated. From students' perspectives, this feature should never have been added to the Chromebooks.
"It's not needed," said sophomore Brady Dunn, "We know what school we go to."