OPINION: The Royal Family Failed to Protect Prince Harry and Meghan Markle
The Former Duke and Duchess Reveal All In Shocking Interview With Oprah Winfrey
The former Duke and Duchess of Sussex, Meghan and Harry, recently did an interview with Oprah where they discussed everything that was happening behind the scenes in the royal family. In the interview, the Duchess explained how she was being mistreated by the media in the UK and by some unknown members of the royal family.
Meghan shared with Oprah Winfrey that a member of the royal family (which she refused to name) had concerns about the skin color of her firstborn, Archie.
"There were concerns and conversations about how dark his skin color would be," said Meghan.
Meghan also confessed that she had suicidal thoughts because she felt isolated within the institution and unsupported by the family. One of her main concerns with the institution was that she felt like she needed protection, and they were not willing to give it to her and her family. She explained how she was afraid to tell Harry what she was thinking but she knew that she had to.
"I knew that if I didn't say it, then I would do it and I just didn't want to be alive anymore," said Meghan.
All of the stories that Meghan shared in the interview were extremely concerning and simply, confusing. The entire situation felt like a deja vu moment because Princess Diana spoke out against the royal family when she split from them also. If I am being honest, my perception of the royal family is not a good one. Their values are outdated and some of the members are emotionally abusive towards other members. It just does not seem like a good system to get trapped in–and that is exactly what the members are, trapped. However, it would be nice to have all of my bills paid by the taxpayers in Britain and all I would have to do is sit and look important. Anyways, I digress.
The UK media have constantly slandered Meghan for every move that she has made; I have to assume it is because of her race. If you compare some of the headlines that Meghan has received to the ones regarding the Duchess of Cambridge, Kate, it is obvious that there is favoritism between the two women when it comes to headlines in British media.
It is also incredibly infuriating how Meghan and Harry have had no protection from the institution for these dreadsome headlines, and even allegations that have been made towards Meghan (by a royal advisor) that have dragged her character. There are rumors surrounding Meghan that says she bullied members of the royal staff when she was still involved in the institution. However, members of the royal family have not done anything to denounce these allegations and stick up for Meghan; the only person being Harry of course. There is even an ongoing investigation to look into these claims. They obviously pick and choose who they want to protect because there have been far worse allegations attached to Prince Andrew, the Queen's second son, such as being an accused sex offender and being tied to Jeffrey Epstein who was a child sex trafficker. The palace did everything they could to stand by Prince Andrew and rebuke the allegations in the media; yet, they can't even do the same for Meghan when she has proof that she did not bully any royal staff members.
It is disheartening how the complexion of her son, Archie, was brought up as a concern by someone in the royal family. He is their blood; their family. This concern should not have even been brought up because his complexion should not matter to them. Meghan and Harry would not disclose who made these comments about Archie, however, they did let it be known that it was not Queen Elizabeth II or Prince Philip. Meghan acknowledged how the Queen was always welcoming to her and treated her with respect. I understand why they would not want to tell the world who made these damaging comments about Archie's skin complexion because the people in the institution are still their family. It is obvious that family is important to them. However, the person who made this statement should not get away with it scot-free because Meghan and Harry have put up with so much because of that institution; that person should know how it feels.
The royal family has been a symbolic figure for England for years and they won't be going away anytime soon. Nonetheless, there have been countless times where stories have been shared regarding the royal family and they have not been good ones. There are certain members of the royal family, such as Princess Diana and Duchess Meghan who have been mistreated and ridiculed. The truth is, I don't know what a solution could be for these issues surrounding the royal family. I do know that these issues are breaking up their family, so they should figure out a way to resolve them before more secrets come into the light.
About the Contributor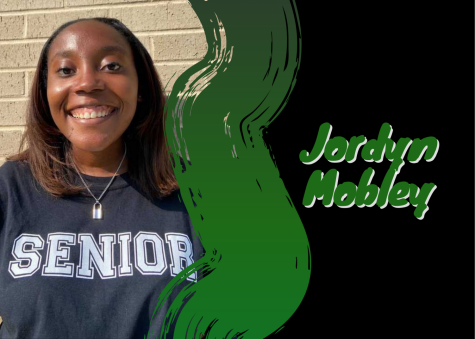 Jordyn Mobley, Editor in Chief/A&E Editor
Jordyn Mobley is a senior at McIntosh who has been a part of the Trail staff for all four years of high school. She is serving as the Editor-in-Chief of...