OPINION: We ALL Hate Group Projects!
Group projects, am I right? Sure, we love them in those rare instances in which we get to work with our friends and collaborate, but normally, that isn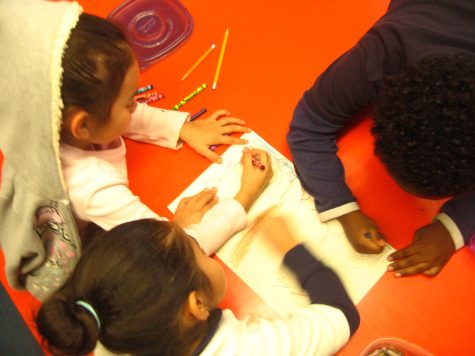 't always the case. As a junior, my grade becomes more important than ever, and getting squished into these group projects is a bit overwhelming. Now, I don't only have to think about what I contribute to the project, but I have to think about what my partners will contribute (if they even decide to contribute at all). I think it's come to the point where group projects seem almost unnecessary. I mean, think about it: what is the purpose of putting students together to work on a project other than having them do individual tasks alone without really having a conversation with one another? It's all so… elementary school. We are high school students, for crying out loud. We should be able to take responsibility for an assignment and see it all the way through without the crutch of a group grade.
Ironically enough, this story is a group project of sorts; a collaboration between my younger sister and me based on a conversation we had a couple of days ago. During this conversation, we thought of three specific situations that make group projects unbelievably unbearable and decided to share them with you in hopes that you can relate as well to the struggles of group projects.
One: When your partner waits until the last minute to complete the whole project.
To be fair, everyone procrastinates on one thing or another, but there's a difference when it's solely your assignment versus when it's a collaborative assignment that is graded on the content provided by the entire group. People love to flex how they can put off all their work until a couple of hours before it's due, but in reality, they aren't going to do their best work because they have other things to get completed by 11:59 p.m., which just causes them to incorporate anything into the project. You wouldn't want to seem like a prude and tell your partner what to do and when to do it.
"They have their own life," said Freshman Grace Scott. "But they seem to not remember that I have one, too. I absolutely hate that my grade depends on their availability."
Two: When no one knows what they are doing.
This one actually isn't that bad when you put it in perspective. It can be quite comforting to see that neither you nor your group understands the prompt or what to do for the assignment. However, once you talk to your teacher and get some direction, things start to get less comforting when the rest of the group or that one, nonchalant kid doesn't try to get the understanding for themselves. At this point, you start to realize that you are going to have to do the project all by yourself. When you try to explain the instructions to them and how they should do their part, they look at you blankly, completely clueless. Or they could be the type to pretend like they understand after you explain, but later, when you check the Google Doc to see the progress they've made, there isn't any to be seen. It truly is annoying and very frustrating. You are not trying to gain an understanding of an assignment for a class that you need to pass in order to not repeat it again, but you're bringing me down alongside you. Nobody's asking you to be super smart or know what you're doing at all times, but just simply trying to understand the task in front of us will not only ease confusion but will help us to complete the project to the best of our ability. Is that so hard?
Three: Working with a know-it-all.
As much as working with slackers can be frustrating, it can be equally frustrating working with someone who doesn't know how to relax. Grades are important, as we all know, but talking to the project group chat with daily reminders of what to get completed is annoying. You could totally understand the prompt and know what you're supposed to be doing, but once you start writing your part of the project, that overbearing partner overwhelms you with seemingly useless information on how to make your part of the project "better" or more "rhetorically effective" or whatever the know-it-alls say these days. We can't be the only ones who've experienced these kinds of partners, right? They're the kind to talk to you slowly as if you're in 2nd grade and delete something that you put for the project and put what they want because they don't think that what you put was good enough. If this is supposed to be a group project, allow me to do my due diligence, especially if I'm actually putting forth the effort to do so.
I think we've come to the conclusion that Group/Partner projects are a struggle. Do what you want when it comes to your own personal work, but if you get the undeniable privilege of working with one of us on a group project, best believe we'll do the whole thing ourselves, and put only our name. Just know we are not doing this, because we love doing work, but because we want to do something with our life in the future.