Estep's January Music Critiques
January has been kicked off with the release of Gnash's We, Toro y Moi's Outer Peace, and James Blake's Assume Form. These albums haven't generated as much talk as other recently released albums, but have nonetheless been successful. 2019 is off to a relatively slow start, but future months seem to hold even more promise with releases from Lana Del Rey, The Japanese House, and even Avril Lavigne.
Gnash's We, released on Jan. 11, 2019, divulges the story of teenage heartbreak. The 13 track album is just 40 minutes of Los Angeles lead singer Garrett Nash painfully pleading for his ex to take him back. The songs follow traditional pop melodies and the lyrics follow in suit. This album presents nothing revolutionary, but what was to be expected from the 2016 one-hit-wonder artist of "i hate u, i love u." While it's admittedly refreshing to listen to tracks from a young male artist speak on the matter of heartbreak and heartache, the lyrics fail to convey anything original and the album can be categorized as overly cliché.
On a more refreshing note, is Toro y Moi's new album Outer Peace. Back in 2017, Toro y Moi released Boo Boo which was welcomed with praise. Now, two years later, on Jan. 18, he's come out with another album that's generated just as much, if not more talk. This sixth studio album consists of 10 songs and is just over half an hour long. The album creates the perfect mixture of electro-pop, experimental funk, and R&B tones.
Also released on Jan. 18, 2017 is James Blake's Assume Form. This 12 track album comes in at just 48 minutes. Throughout the album's duration, Blake shows off his skill while simultaneously featuring other talented artists. Popular artists included on the album are Travis Scott, Metro Boomin, and André 3000. These artists enhance Blake's performance and add to his dynamics. Tracks "Mile High," "Are You in Love," and "I'll Come Too" showcase Blake's talent both vocally and instrumentally.
About the Writer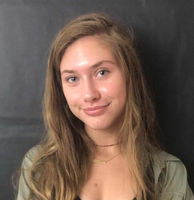 Arden Estep, Opinions Editor
Arden Estep is participating in journalism at McIntosh High School for her third year in a row. Last year, she enjoyed being the Opinions and Editorials...