OPINION: The issue with old tweets
Over the past year or so, it seems that anytime anyone famous does something successfully or reaches a milestone, a swarm of social media warriors dig up years-old tweets from these people in which they may have used a homophobic slur, racial slur, or another derogatory term. In some noteworthy cases, these old tweets revealed the true hateful colors of the person in question; for example, a quick look at the old tweets of Brewers' pitcher Josh Hader makes one question why he is still employed by the MLB. However, in general, these tweets are clearly not intended to incite hate and often times, the tweets are so old that one must believe the person has changed since they posted them.
On Dec. 8, Oklahoma quarterback Kyler Murray won the Heisman trophy, the second straight year that a Sooner won the award. Sure enough, right after he won the award, someone found an old tweet from 2012 in which Murray used a derogatory term for LGBTQ members, but a look at the tweet itself makes it clear that there was no true hatred or prejudice intended. That didn't stop a large social media outcry, which ultimately forced Murray to make an apology for something he did when he was 15-years-old.

Recently, it was announced that comedian and actor Kevin Hart would host the 2019 Oscars. However, without fail, someone dug up an old tweet in which he too used what could be seen as a homophobic slur. As is usually the case, the tweet was nearly a decade old, and was something that Hart himself had already addressed before. Because of the outcry due to the tweet, however, Hart announced his withdrawal from hosting the famed awards show, sick of the hate he was receiving from his old tweet.
Are we really surprised that Hart, a stand-up comedian, would say something that is offensive to a group of people? It's literally his job, and if you don't want to be offended, you don't have to listen. If people today are upset about the things that Hart and other comedians have said, they would probably pass out after just a couple of minutes of listening to Eddie Murphy's Delirious. It's comedy, and one would be hard-pressed to find a funny joke that doesn't offend someone.
In response to the outcry against Hart, fellow entertainer Nick Cannon started reposting old homophobic tweets from famous female comedians like Amy Schumer and Sarah Silverman, some of whom had criticized Hart, exposing their hypocrisy. It's a sad statement that the way we judge people in today's society is based off of things they tweeted years ago. We should be worrying just as much about the adults who go online and purposely look for evidence to try to derail someone's career as we do about the people who may have tweeted these things in the first place.
Unfortunately, this practice of bringing back the past to try to ruin someone's present and future doesn't show any signs of stopping, so here's a quick word of advice to anyone who plans on being famous or successful one day: check your Twitter account and delete anything that might be even remotely offensive. Social media warriors take no prisoners.
About the Contributor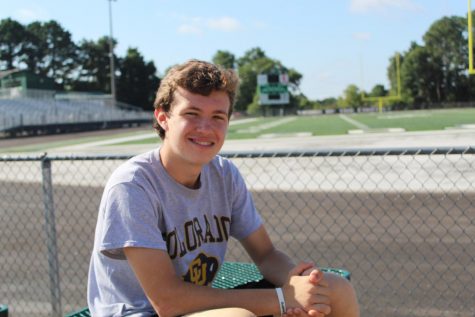 Jackson Stone, Staff Writer
Senior Jackson Stone is beginning his third year with the McIntosh Trail. He has always had a passion for writing and hopes to study journalism in college...