The month of November is National Diabetes Awareness Month. Each year, there is a theme that goes along with spreading awareness for diabetes. This year's theme is centered around prevention. 
In the US, Diabetes affects around 37.3 million people, with one in ten people having the chronic disease. There are three main types of diabetes: Type 1, Type 2 and gestational.
Type 1 diabetes affects a person's ability to make insulin. Type 1 diabetes is not genetically inherited and is typically caused by an autoimmune response. Type 2 diabetes also compromises the body's use of insulin and it can be genetically inherited. It is often characterized by insulin resistance, which is the body's altered response to insulin.
So one of the things that is interesting about insulin [is] if you have type one, you need insulin in order to survive. But if you take too much insulin, it can be deadly. And the difference in what you need and what would be deadly is a very small amount."
— Stephanie Sisk
The third type of diabetes is known as gestational diabetes, which occurs during pregnancy. Gestational diabetes is caused when the body struggles to make insulin during pregnancy. This type of diabetes occurs in around two to ten percent of pregnancies. After pregnancy, the diabetes could resolve, but there is also a chance that it will not. If the diabetes does not resolve after delivery it is classified as Type 2 diabetes. 
The role of insulin in the body is to keep blood glucose (sugar) levels stable and to aid cells in getting sugar for energy. When insulin production is affected or the body begins to respond differently to insulin, there is a risk of elevated blood sugar levels. Stephanie Sisk, an AP Biology teacher and the mother of a child with Type 1 diabetes, was willing to expand on the impacts of fluctuating blood sugar levels on the body. 
"I would say the important thing to know about [diabetes] is that the blood sugar does fluctuate a lot. So irritability is one of the symptoms of high blood sugar and low blood sugar," Sisk said.
High blood sugar levels can also lead to a host of other health issues such as vision loss, kidney disease and heart disease. Wearing blue is one way to show some support for National Diabetes Awareness Month, but there are also other ways to show support and spread awareness as well.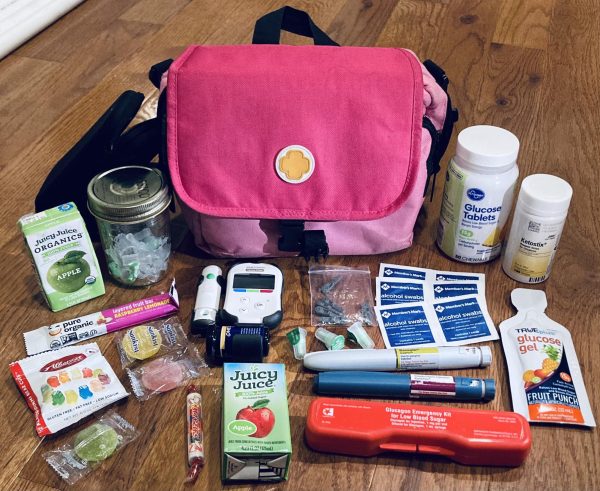 "So I would say two things. One is just to be sensitive to the fact that someone else has something else going on," Sisk said. "And I would say don't offer unsolicited advice, but educate yourself." 
Diabetes can be help be prevented by maintaining a healthy weight, staying active and having a healthy diet. For those with diabetes, it can be managed by making healthy choices and taking insulin for those who may need it. 
"I would say the most important things are knowing the warning signs so you can actually recognize it in somebody else and then being sensitive to the fact that it causes fluctuation in your mood and the way that you feel on an hourly basis," Sisk said.
To learn more about diabetes, visit the CDC or WHO websites.