On Tuesday, May 2 at 12:01 am, the Writers Guild of America called for a strike for the first time since 2007 due to the changes advanced AI has made to the industry.
Every three years, the Writers Guild meets to negotiate terms for the next sector of years. This year, the decisions were expected to be a fight. There have been massive changes to the industry in the past three years due to the advancement of AI, and the terms of the 2023 negotiation were not up to the Guild's standards.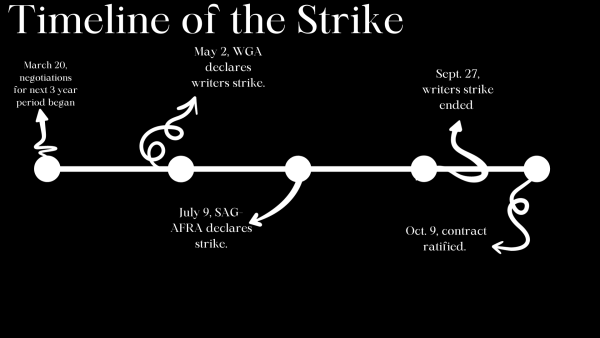 On Sept. 27, the WGA ended the writers' strike for new terms to be negotiated. The new terms of the contract include higher pay, restrictions on AI and crediting, longer minimums of time for greenlight rooms and higher residual pay from streaming services.
Many students and faculty members have relations with the Trilith studios nearby. Junior Abigail Greenstein was one of the many students affected by the strike. 
"Luckily with this strike, my dad had been keeping money aside for a while just in case. My dad had [work friends] living on the streets and working in fast food. We had enough money for bare essentials. I had gotten a job so that way I could afford other things," Greenstein said.
Now that the writer's strike is over, work can continue as usual in Trilith Studios.
"The whole writer's strike wasn't as bad as it could have been," Greenstein said.