Allen Henderson, owner of a small local business called Newnan MedEd, is offering an opportunity for interested students to jump into the medical field, begin learning their preferred technical medical skills and earn certifications. Classes can be taken while enrolled in high school or even after students graduate. Henderson's facility is located in Summergrove, Newnan.
Henderson is very seasoned in many areas of the medical field.
"Over the last 30 years, I've done emergency room, orthopedics, neurology, family practice, internal medicine, mohs surgery, urology, urgent care and now [I'm] teaching patient care tech and certified nursing assistant. My partner is currently teaching EMT as well," Henderson said.
Some students may want to go to college after they graduate, while others may want to enter the workforce as soon as possible. Whatever the case may be, Henderson shared with students what he's offering.
"What we offer is an option for some students to get an education efficiently and effectively, which means that within six months, you can challenge the national exam which will make you a medical assistant in any of [the] 50 states and you can jump into a medical job immediately," Henderson said.
The courses offered aren't strictly in-person.
"What we offer is a hybrid course that you can start online and [you can] do the modules on your own time. We can meet once a week to do the hands-on clinical part of the education and or [to work on] clarifying the chapters that you need help with during the week," Henderson said.
The courses offer a real, in-person experience and the opportunity to take a national exam with the National Healthcareer Association.
"We have also partnered up with local urgent cares and doctors' offices to do some clinical hours to get your feet wet. When you graduate high school you can graduate [from] this class. You can go and take a national exam from the comfort of your own home on your own laptop and you can start working the following week once you pass," Henderson said.
Students don't have to worry about trying to juggle the courses and their schoolwork because the courses are quite flexible.
"We can easily accommodate a full-time student's schedule. They can work on this [course] work when they're not working on schoolwork or their other activities," Henderson said.
The same goes for student athletes.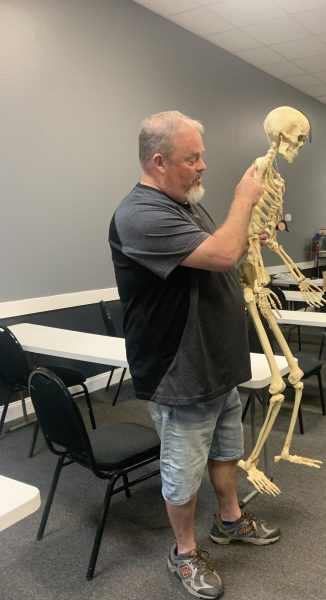 "I remove barriers to get them educated, so I will work around the student athletes' practice schedules, school schedules [and] game schedules. I will accommodate students any way I can and in every way I can," Henderson said.
Students also don't have to worry about working around the clock to meet deadlines Henderson said. 
While there is no hard limit on the amount of time that students can take these classes, Henderson recommends trying to complete them in around six months. As Henderson mentioned earlier, the courses offer hybrid classes where the students can meet with him for hands-on learning and clarification, but he is also willing to try to make these in-person classes more accessible. The facility is about 30 minutes away from McIntosh.
"We have a facility here in Newnan in Summergrove," Henderson said.
Henderson also listed the pricing for interested students. Students can get multiple certifications at once for the price of one. 
"We are doing it for $3500 a student [per class], but if we can get a handful of students from McIntosh I can definitely lower the price," Henderson said.
While this opportunity may not be for all students, Henderson is simply offering another path that students can take either now or in the future.
"Some kids are destined to go to college for a four-year degree and that's great. There are also certain students who are going the more technical route for one reason or another and [I] would like to use this as an option for those students," Henderson said.
They can self-pace themselves. They can [complete the course] as early as three or four months, or if they want to stretch it out [to] greater than six months that's not a problem either,"
— Allen Henderson
For more information, students can access the National Healthcareer Association website here.
The opportunity offered by Allen Henderson also has some overlaps with dual enrollment; click through the information graphic attached to this story for more information on dual enrollment.
Dual enrollment is cheaper and better suited for college-goers. However, Henderson's opportunity offers a wider variety of courses for more career pathways in the medical field and may be beneficial to those who don't want to go to college.