Assistant Superintendent of Operations Steve Cole called for an update on capital projects including an athletic complex auxiliary gym and on-site tennis courts according to the Fayette County Board of Education meeting minutes from April 24. McIntosh is expecting these improvements to start later this year. Renovations began over the summer constructing the new parking lot to add more car spaces due to complaints of the amount of car parking spots.
Parking lot renovations
 The McIntosh parking lot was already under renovation after the 22-23 school year ended – not to add more golf cart spots, but only car spots, according to Assistant Principal Leon Hammond.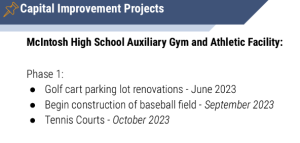 "Did it give us more [golf cart] spaces? No. Part of [the] overcrowding [complaints]  was that we started checking [golf cart parking permits] so that's kind of misleading about it being overcrowded simply because you have a number of students who are parking illegally," Hammond said.
The changes to McIntosh and the new parking lot had been reportedly requested for years. 
"We knew eventually there's [going to] be work done based on adding a new auxiliary gym so we knew that was going to be a possibility. I guess that was over multiple years of asking for additional car spaces," Hammond said. 
One student isn't sure about how renovated the parking lot is, and junior Addy Blair is unable to tell a change.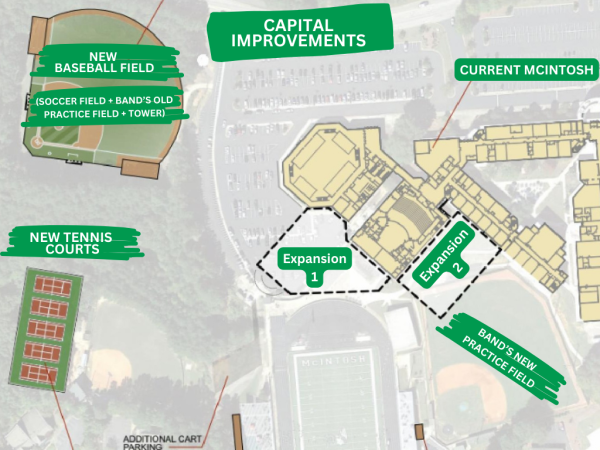 "I think that last year had less space, however, this year's parking lot, is it really any different," Blair said. 
Students have adjusted to the new parking lot and increased parking but some still think there are issues with parking.
Junior Zach Graf has been parking a vehicle on campus for two years and hasn't noticed improvement.
"I still think the parking lot is pretty full, and that there's not very many spaces," Graf said, "It's actually quite a problem trying to fit into the spaces. They're quite small."
One student had noticed that students were hitting other carts due to a lack of space. 
"I was sitting in one of the middle spots ready to back out and [a student] backed into me and then zoomed off," Blair said.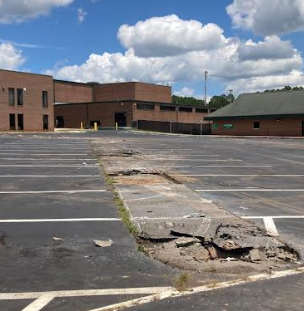 Graf agrees that despite the improvements, collisions still happen.
"There are certain parts in the parking lot where the vehicles are so close together that if you want to get out, the cars come very close to hitting each other. And sometimes they'll get dents and scratches on their car," he said.
One student sees the parking lot in more of a positive way.
"I like it. [It's] a lot more organized," junior AJ Evans said. 
Both Blair and Graf have advice for any student looking to park a vehicle on campus.
"Try to come early and beat everyone else so that you can get a good parking spot or [one of the] larger spots behind the teacher parking," Graf said. 
But Blair isn't as optimistic.
"There is no point [during] this school year that you will not get hit because there's not enough space in between the first two rows [of golf cart parking]," Blair said. 
Editors' note: This is the first in a series on all the capital improvements coming to McIntosh over the course of the 2023-2024 school year.