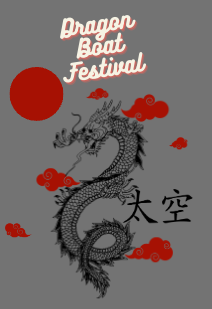 The 16th Annual Rotary Club of Peachtree City Dragon Boat Festival is this weekend. The purpose of the event is "to raise awareness of the cultural diversity in Peachtree City and to increase interest in international commerce through the interaction of the community business and the arts," according to their website. Held at Drake Field on Saturday Sept. 23, there will be various things for the whole family to enjoy such as food, activities and entertainment. Festivities are expected to start around 6 a.m. on Lake Peachtree and end at 4 p.m.
The Dragon Boat Festival in Peachtree City is about appreciating one of the many cultures that make Peachtree City the community that it is.  
Peachtree City resident Devin Lin attends the festival every year because it reminds him of the Dragon Boat Festival in the town of his youth, Fuzhou, China. 
"I come here every year and still have a good time [every year]," Lin said at last year's festival.
The History of Dragon Boats
A dragon boat is a traditional Chinese-designed boat propelled with paddles by a large crew and used for racing.
Dragon Boats have a history dating back to around 770 and 476 BCE.  This is celebrated on the fifth day of the fifth lunar month of the Chinese calendar, according to "The Legends Behind the Dragon Boat Festival," published in Smithsonian Magazine.
Lin, at the 2022 festival, noticed the differences between the boats in America compared to China.
"Here [In the U.S the boats are] smaller," he said.