School Resource Officer Brandon Weathersby leaving MHS
Weathersby will be leaving MHS at the end of the semester to return to regular duty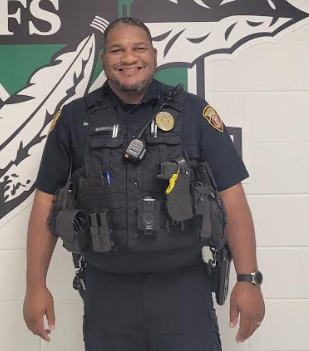 Mikayla Carrino, Staff Writer
Apr 27, 2023
On April 26, School Resource Officer Brandon Weathersby announced that he will be leaving McIntosh High School to return to regular patrol with the Peachtree City Police Department.
"Instead of me working every single day [at McIntosh] and late at night, I need to spend more time with my kids and family," Weathersby said. Weathersby said his wife was in the process of becoming a teacher. "She has to go through student teaching and that takes a lot of work and time. It's just family commitments."
Weathersby wants students to know that he thoroughly enjoyed his time at McIntosh and hopes he was a positive role model.
"I hope I was," he said.  "I enjoy my time with students being here. It's not a goodbye, because I'll be around, I'll stick my head in, and joke around with you guys and also go to games and stuff."