Nauseous nonsense; flu season hits McIntosh
Mikayla Carrino, Staff Writer
Oct 26, 2022
After Homecoming week, students called the nurse sick with many different symptoms. Students and teachers have noticed a decrease in the number of people in class, and an increase in students wearing masks to protect others from getting sick and themselves.
"I only know [when students have tested positive for viruses] when they tell me. People have tested positive for the flu. Apparently, strep is going around, flu, and some [other] virus is going around. Some people are going to the doctor and some are just staying at home. The ones that have gone to the doctor I've seen are [mainly] testing positive for strep or flu," McIntosh School Nurse Jane Herrera said.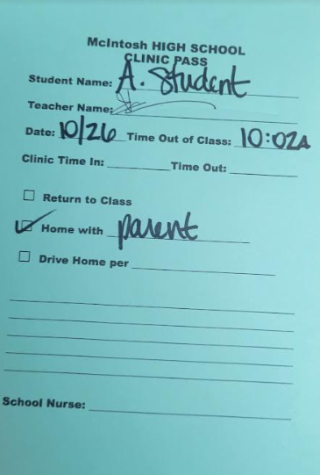 The CDC has suggested everyone ages six months and older [should] get a flu vaccine, ideally by the end of October. According to the CDC, this is the highest percentage of infection rate since 2017 nationally. The current infection rate is two times more than in previous years. CDC also says Georgia has one of the highest infection rates in the country as of October 15th.
"Yesterday, [October 24th] I found over 80 students, most of whom came in with cold-like flu symptoms. We don't test [here] for the flu so I don't know if that's actually what they had but, they had congestion, runny noses, headaches, and stomach issues which could be symptoms of the flu," Herrera said.
Some students are not taking precautions and distancing or wearing masks which is why these viruses are becoming more of an issue and spreading more quicker. When COVID-19 hit, it was mandatory to wear masks, since a mask is a proven effective way of preventing the spread of illness.
"I've seen more students have been out, [especially] clusters of kids," social studies teacher Christopher Judy said.
Hererra wants students to stay safe and healthy at McIntosh. When not feeling well it is recommended to see the nurse, stay at home and follow some guidelines to avoid the virus.
"My advice would definitely be to make sure you are washing your hands. That's the best way to reduce infection, get lots of sleep, take your vitamins, drink water, take care of yourself, and be healthy," Hererra said.