When Can Teens Get The COVID Vaccine?
The question on everyone's mind: when can teenagers get the COVID-19 vaccine? About 84 million adults have been vaccinated in the United States alone (npr.org). That makes up 23.1% of the US population. Those under 18 make up 24% according to census.gov.
Although those under 18 are less likely to be affected by COVID-19, they can still be carriers of the virus. This is part of the reason why it is so important that a vaccine is created for children and adolescents.
3.1 million shots are being administered each day.
As of April 29, over 3.78 million children have tested positive for COVID-19. Children were 1.2%-3.1% of total reported hospitalizations (aap.org). More than 13,000 children have been hospitalized and 241 have died.
"Since last May, around 2,600 U.S. children and adolescents have also developed a rare condition called multisystem inflammatory syndrome in children, or MIS-C, weeks after having had COVID, and 33 of them have died," stated the AAP.
MIS-C is a condition where different body parts can become inflamed, including the heart, lungs, kidneys, brain, skin, eyes, or gastrointestinal organs. Children with MIS-C may have a fever and various symptoms, including abdominal pain, vomiting, neck pain, rash, and bloodshot eyes. Many children with MIS-C had the virus that causes COVID-19, or had been around someone with COVID-19.
Dr. Anthony Fauci, director of the National Institute of Allergies and Infectious Diseases, said that he believes high schoolers will be able to get their first vaccine by the start of school and be fully vaccinated by early fall (kiro7.com). It is possible that COVID-19 shots for younger children could be available by the beginning of 2022.
While Influenza (flu) and COVID-19 are both contagious respiratory illnesses, they are caused by different viruses. COVID-19 is caused by an infection with SARS-CoV-2, a new coronavirus, and flu is caused by infection with influenza viruses. It seems that COVID-19 spreads more easily than flu and causes more serious illnesses in people. While a lot has been learned about COVID-19 and the virus that causes it, there is still a lot that is unknown. This is part of the reason as to why people are so worried.
While a COVID-19 vaccine is available for adults, one for kids is still in clinical trials. It will help protect older adults around them who are high risk. If many children get a vaccine, the chance of herd immunity goes up. Moderna has begun vaccine studies for children six months to 11 years old and another for ages 12 to 17.
79,886 new child COVID-19 cases were reported in late April from April 15-22 (3,631,189 to 3,711,075) and children represented 20.9% (79,886/383,194) of the new weekly cases. Over the span of two weeks, April 8-22, there was a 5% increase, 168,383 cases, in the cumulated number of child COVID-19 cases. This raised the total from 3,542,692 to 3,711,075 cases.
Scientists need more time to research children's vaccines because their immune systems change rapidly. This means that a child's body might respond differently to a vaccine depending on their age. It will take longer to study these differences to make sure the vaccines are safe.
Pfizer was already testing its vaccine in kids aged 12 to 15, and the company has announced results showing that its vaccine works well at preventing COVID-19 in this age group. Moderna has been testing its vaccine in those aged 12 to 17. Given that most kids are at low risk for complications from COVID, the need for a pediatric vaccine for the disease may not seem pressing. But scientists say the pandemic may never be fully controlled until kids are inoculated. Recent research suggests infections among kids are more common than public health authorities realized.
Children weren't a part of the original vaccine trials because they're generally not as vulnerable as adults. The majority of the deaths during the pandemic (92%) have been people ages 55 and older. This doesn't mean that children are immune to COVID-19. They just have a lower chance of serious complications from the virus. There are more levels of protection when children are involved in clinical trials. So it made sense to focus efforts on adults.
Donate to McIntosh Trail - The Student News Site of McIntosh High School
Your donation supports the student journalists of McIntosh High School. Your contribution will allow us to purchase photography equipment and cover our annual website hosting costs.
About the Writer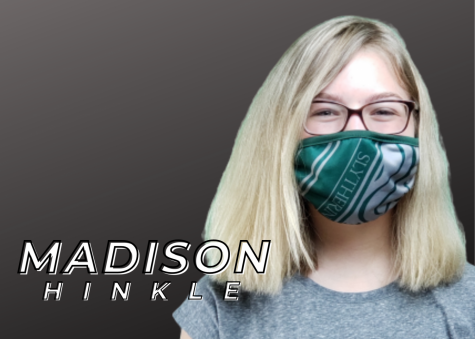 Madison Hinkle, Staff Writer
Madison Hinkle is a freshman at McIntosh High School, and it is her first time being part of a newspaper. Madison likes reading, writing and singing with...