J.C. Booth Latest Updates and Information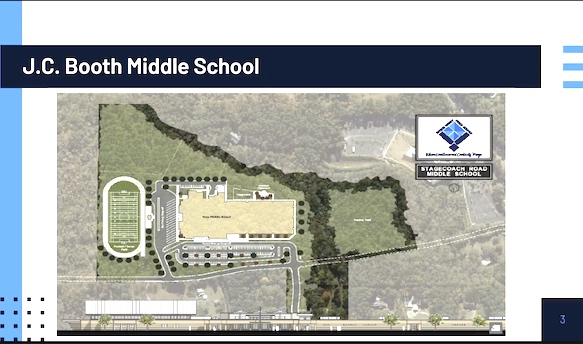 J.C. Booth Middle School was built in 1979 and the inside of the middle school is proof of its age. FCBOE has been under pressure to renovate or build a new middle school to replace Booth. After much discussion in the Board of Education they decided to do both.
Starting in May of 2020 renovations began on the school to create a more pleasant learning environment for students. The renovations included renewing the floors, ceilings, lights, air conditioning systems and security systems in the west wing to name a few. This renovation was labeled as phase one.
Phase two of the renovations are scheduled to start this coming summer break. This phase will focus on the older parts of the school and consist of much of the same renovations as phase one.
These two phases of renovation to the existing J.C. Booth are estimated to cost a total of $13.5 million. However, not all of this budget will be paid for by taxpayers."A significant percentage of the total cost, approximately $6 million, is reimbursable by the state due to the age of the school, excluding the west wing that was built in 2002. Once reimbursed, the local cost will be approximately $7.5 million," stated The Citizen.
In addition to the new renovations to the existing Booth, the new booth is under construction. The new middle school is necessary to be built in order to accommodate the growing number of students that the existing school cannot accommodate. "The school has outgrown the core facility. The size of the classrooms, hallways, cafeteria and gym are no longer adequate for the over 1,200 students who attend J.C. Booth Middle School," said an article released by the FCBOE.
There have been a number of people questioning the consequences of the new school. Some concerns are that there will be a build up of traffic because of the busy intersection the school is built nearby. The Citizen stated that, "The current Booth on Peachtree Parkway South allows for 30 to 35 vehicles in line on the school property, while the new site off Stagecoach Road and Carriage Lane allows for 80 to 85 vehicles in line at one time on the new school property."
The new J.C. Booth middle school is scheduled to open for the 2021-2022 school year.
https://thecitizen.com/2020/05/17/13-5-million-renovation-of-current-booth-middle-school-set-to-begin/
https://www.fcboe.org/site/Default.aspx?PageType=3&DomainID=4&PageID=1&ViewID=6446ee88-d30c-497e-9316-3f8874b3e108&FlexDataID=13210#:~:text=The%20project%20completion%20date%20for,Middle%20School%20is%20August%202021.