Nike Sues Lil Nas X Over Satan Shoes
Lil Nas X, otherwise known as Montero Lamar Hill, is a famous American rapper that is best known for his country song "Old Town Road." Lil Nas X has seen a lot of accomplishments in topping the Billboard Chart. The star continued to gain fame through becoming the first artist to come out of the closet as a number one record holder.
This year, Lil Nas X has collaborated with the brand MSCHF to create Satan Shoes. The Satan Shoes are a series of custom Nike Air Max 97 shoes. The features of these shoes include: one drop of real human blood guaranteed, a bronze pentagram on the laces with an inverted cross, and the Bible verse Luke 10:18. Furthermore, only 666, the number associated with Satan in the Bible, pairs of shoes were created and all sold within minutes. The shoes were sold for $1,018. 1018 is a number associated with astrology and is known as the "Angel Number."
In addition to selling the Satan Shoes, he also produced a music video. The song, "Montero (Call Me By Your Name)" has hit the number one spot on the Billboard Hot 100. The music video features the artist giving a lap dance to Satan among other interesting things.
The first controversy surrounding both the shoes and video come from complaints from the Christian community. Many believe these shoes to be a direct attack towards their religion.
Clay Thompson from the Baylor Lariat says, "So by glorifying Satan with the 'Satan Shoes' and by directing a hateful message towards Christians, he is, hopefully inadvertently, causing many others to feel intolerance towards Christians as well."
Lil Nas X has not hidden away from his feelings towards the Christian faith.
Lil Nas X said on Twitter, "I spent my entire teenage years hating myself because of the [things] y'all preached would happen to me because I was gay. So I hope u are mad, stay mad, feel the same anger you teach us to have towards ourselves." According to this Tweet, among many other statements made from the artist, it has been made clear he carries a torch of great resentment towards the church and its members.
Despite the fact that Nike had nothing to do with the collaboration, many people do believe that Nike had a hand in it, which hurt the Nike brand. Because of this, Nike decided to request for a temporary restraining order on the Satan shoes which was approved. Nike made the statement that the shoes were created "without Nike authorization."
"Nike files this lawsuit to maintain control of its brand, to protect its intellectual property, and to clear the confusion and dilution in the marketplace by setting the record straight—Nike has not and does not approve or authorize MSCHF's customized Satan Shoes," said Nike.
MSCHF said in response to the charge, "We were honestly surprised by the action Nike has taken."
665 pairs of the shoes have already been sold and sent out. As for the 666th pair, Lil Nas X intended on giving those shoes away in a giveaway run from his Twitter. Good or bad, the last pair of shoes were put on hold before they were able to be sent out.
Lil Nas X responded on his Twitter with, "sorry guys i'm legally not allowed to give the 666th pair away anymore because of the crying nerds on the internet."
The settlement between Lil Nas X and MSCHF with Nike included making the company recall and refund all sales of the Satan Shoes along with another shoe that the company ran, the Jesus Shoe. The Jesus Shoe contained something special in it similar to the Satan shoe. However, instead of a drop of blood, it claimed to have water from the Jordan River.
Despite the fact the brand MSCHF lost the settlement, they still believe that they did nothing wrong. In regards to the morality of creating Jesus or Satan Shoes, the MSCHF believes that they are exercising artistic liberty.
MSCHF's statement reads, "MSCHF makes artworks that live directly in the systems they critique, instead of hiding inside whitewalled galleries."
MSCHF also believes that the shoes are in no way offensive.
The statement also says, "Over a year ago we released the Jesus Shoes. As a manifested speculative artwork Jesus Shoes conflates celebrity collab culture and brand worship with religious worship into a limited edition line of art objects. Last week's release of the Satan Shoes, in collaboration with Lil Nas X, was no different."
MSCHF's statement ends with a very interesting message, "Better To Reign In Hell Than Serve In Heaven."
Still Interested? Here are the sources that were used to make this article.

https://www.thefader.com/2021/04/06/lil-nas-x-montero-call-me-by-your-name-hits-1-on-the-billboard-hot-100/
https://en.wikipedia.org/wiki/Lil_Nas_X/
https://en.wikipedia.org/wiki/MSCHF/
https://en.wikipedia.org/wiki/Satan_Shoes/
https://people.com/style/nike-mschf-settle-lawsuit-over-lil-nas-x-controversial-satan-shoes/
https://mschf.xyz/statement.pdf/
Nike wins court battle against Lil Nas X, 'Satan shoes' sales blocked
About the Writer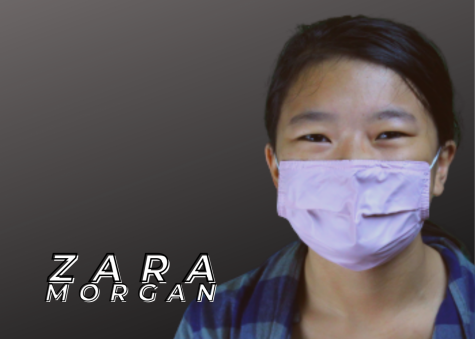 Zara Morgan, Staff Writer
Zara Morgan is an 11th grader, and this is her first year on the MHS Trail. She wants to learn more about staying up to date with current events and wants...