Are Concerts a Safe Option During a Pandemic?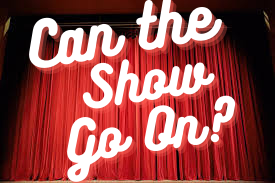 Zara Morgan, Managing Editor/Features Editor
December 11, 2020
Once COVID-19 entered the window, our hopes of seeing our favorite concerts, shows and bands flew out. Countless artists and bands started delaying, and then eventually canceling their shows including the Fox Theatre, which had to shut down in March.The pandemic has not only stolen lives, but it has also stolen jobs and our sources of entertainment and connecting with each other. The activity of going to see a show at the Fox with our friends and family became an option we no longer had.
Eli Borgnesser is a senior this year in advanced orchestra. "Playing [the cello] in class is my favorite," says Borngesser. "I first got into orchestra because I found it very interesting and I thought the music was nice."
"The biggest change is that we have no concerts so we have no real music that we practice and perform," according to Borngesser. "Normally we have four concerts but this year there aren't any."
The concert industry has been hit fast and hard during these times, but there are some things that have stayed relatively the same. Socially distancing has not been a big challenge "as most of the sections are far from each other normally," says Borngesser. Because the orchestra is not having any performances, there has not really been much to prepare for. "We really don't have much to do most days except play things that will help us keep our skills until next year," says Borgensser.
Amy Smith is the Director of Production at the Fox Theatre. "The Fox Theatre is a historic venue in Atlanta, Ga.," says Smith. Instead of producing their own shows, they act as a host for other people to perform their shows at the Fox.
"I am the liaison between the building and the show for the production side," explains Smith. "Once the show is booked, and they're coming, I am the one who will make arrangements for how many stagehands they [have], where they're going to park, dressing room needs [and] sometimesI order catering. I get all the information about the show and I give it to everybody else in the building… I do all the logistic stuff."
The Fox was not always the historic venue it is today, it started off as something else. Smith says, "Originally, the concept was in the men's organization the Shriners . . . that does good for children, you probably heard of Shriners " Shriners is now a well-known children's hospital with 22 locations and specializes in care for children. When Fox first bought the venue, "it operated as a movie house, a movie palace," explains Smith. The movie operation later came to an end due to lack of popularity, and was at risk of closing in 1974. Because of this, "there was local campaign to save the Fox," says Smith. According to the Fox's official website, "Atlanta Landmarks (now called Fox Theatre, Inc.) continues to run the theatre today, making it one of an elite group of not-for-profit theatres in the country, committed to making performance art accessible to everyone." The Fox location in Atlanta is just one of many locations that the theater has. Smith says, "There's a Fox Theatre in St. Louis, there's one in Detroit [and] there's one in Northern California."As of now the Fox Theatre is one of the best theaters for its size. Smith says, "We're one of the most booked theaters in the U.S. , actually in the world, for our size."
The Fox Theatre has had many comedians, bands and performances come and do shows. They have had My Morning Jacket, Vampire Weekend, Nine Inch Nails, and even Lady Gaga before she was famous.
Nowadays, however, the Fox has completely stopped running. Smith says, "We haven't done a show since March 3." The main reason that the Fox has been able to stay in business is because it is privately owned and has its own investments.
"We have our own investment[s]," says Smith. "So the Fox has had some pretty good savings account[s]."
Other theaters that are smaller have been doing even worse than the Fox.
"There's some theaters, I know friends [in] other cities and other venues where they are right now just paying a security guard to watch over the theater," explains Smith. "If this goes on any more months they will close."
Keeping in mind what other theaters are going through Smith says, "So the Fox is actually really lucky."
The Fox has had to make several sacrifices in order to stay open.
"We had probably close to 5550 full time staff [and] close to probably about 150 to 200 part time staff. At this point the Fox has laid off everybody, but about . . . 10 directors," says Smith. "There's three leadership executive leadership with the President and the three leadership directors. There's six security people that are left free maintenance. And then there's five support managers that were left. So that's all that's all that's left." Along with having to let go the vast majority of the Fox's employees, Smith says, "We all took a 25% cut and pay."
Most of the media's attention has gone towards the restaurants when it pertains to which industry is suffering the most while forgetting about the entertainment.
"They talk a lot about the restaurant industry, [but] the arts industry, to me, is dying faster and harder than the restaurants," says Smith. "I think the restaurants, they can still do carry out they can still do take out."
On the other hand, there really isn't much that the theater industry can do.
"We're just a building where people come through and present their work. So we . . . host shows . . . Because we don't produce our own work, it's even harder for us," says Smith.
The way that the Fox goes and gets business is by going out into the public. Smith explains, "We go out and pound the pavement, the sidewalk asking, you know, we want people to come to our building and do shows, but we don't produce shows."
The Fox has had to push through many hurdles throughout the pandemic.
Smith says, "So, the local theater companies can go and do a play outside or can do online streaming, or all of those things that we don't do. We can't do concerts in the parking lot because the Fox doesn't own a parking lot. We can't." Smith also explains that the Fox couldn't even try to host a concert or show with limited guests because "We just don't make any money." Furthermore, the artists that they would be booking would still want a certain amount of money that the Fox would not be able to guarantee.
While waiting for things to blow over, many theaters, including the Fox, have taken the time to invest in cleaning supplies among other things.
"We've done an enormous amount of investing in all the cleaning products and air systems and stuff like that so we're going to make it as safe as possible," says Smith.
According to their website, "While live events in the theatre have not returned yet, we are hosting reduced capacity private events in our ballrooms and Marquee Club presented by Lexus."
The Fox has taken many safety precautions in order to ensure the safety of their guests. A full list of the implementations that have been made can be found on their website. Some of things that The Fox has put in is "additional hand sanitizers are now stationed throughout the theatre, mobile ticket delivery . . . enhanced sanitization and cleaning," among many other things.
The Fox website encourages people to host private events, even during the pandemic at the theater by saying: "From bar mitzvahs, proms, alumni and university parties, to non-profit fundraisers, the Fox Theatre has a space that is uniquely Atlanta and can be uniquely you. Whatever your party's theme, we're happy to help bring it to life."
"That's just what people need is support," says Smith.
Jason Farah is the co-owner and president of Special Event Services (SES), which is a company that specializes in live events. Farah says, "If you've ever been to a concert or a big event, and you see all the sound systems and the lights and the video screens and all that, those speakers hire companies like mine to provide all of that stuff for those events."
Farah's company has shows going on all year around. According to their website, as of 2018, they had 18 Grammy award winning artists along with 46 total tours. They also had over 850 successful shows in that year. The company's main mission is: "To assist the anointed spokesperson of God and deliver the Gospel worldwide." Some of the artists/speakers that SES has in their portfolio are Hootie and the Blowfish, Brett Young, Ed Sheeran and Franklin Graham, among many others.
When 2020 began, SES was set for success. "We were just beginning our concert touring season," says Farah. "In fact, 2020, was destined to be our record setting year."
Unfortunately, months later, COVID-19 later resulted in a nationwide shutdown. All of the big plans that people had for shows and concerts all rolled back and eventually ended up being canceled. "In March, everything came back, everybody everything on hold," said Farah.
At first, artists were just delaying their tours for later in the year when many artists believed that COVID-19 was something that would go away in just a matter of months.
Farah explains, "Nobody knew the scope of COVID-19 and the pandemic. So they first said, well, 'We're going to postpone a couple of concerts' . . . This was mid March. [By June] it was pretty clear that we weren't going to have much of anything because all of the artists canceled their tours for the rest of the year."
Since the vast majority of SES's business comes from live concerts, money became tight.
"Sadly, most of our, actually all of our hourly employees, … we had to lay off," says Farah. "We've had to furlough, even our salaried employees to every other week."
As of right now, Farah's main objective is to just survive to see the other side. In Farah's company, there are both hourly and salaried employees.
Farah explains, "[The] hourly employees … come in and do the general labor kind of stuff, like pulling equipment together. Prepping it. Loading it. Going out and doing events and all of that…"
Luckily, SES has been able to generate some revenue. Once the pandemic hit, everything shut down, including churches. This meant that buildings were empty and not in use anymore. Many churches took advantage of this time by deciding to upgrade their equipment for when church services became a possibility again.
"Many of these churches said, you know, 'If there was ever a good time to retrofit to give us new sound, new lights, new video.' This is it because they recognized that COVID-19 is temporary," says Farah.
SES is mainly a production company. Their installation division is only a mere fraction of what the company does. "[However], even though the installation division has generated some cash flow, it is still not enough to support the whole business because it is only a subdivision of what the company does," Farah explains, "The live events portion of my business generates about 80% of our revenue. And the installation division, 20%. We've been crawling along on the 20% that the installation division generates.
"The concert production industry was hit hard during this pandemic. At the beginning of 2020 . . . many companies, such as myself, make all their investments [early in the year] . . . [2020] was going to be a great year for many companies," explains Farah. "[Right now], a lot of companies have a lot of equipment that just isn't generating any revenue."
When businesses are put up against the wall, they have two options: rise to the challenge and innovate, or go out of business and fail. The concert industry took the first option with the idea of drive-in concerts.
"Well, frankly, drive in style concerts are more about keeping the industry and the interest in concerts alive," says Farah, "It is not a money maker." Farah explains this by saying, "Like, for example, [in the] Charlotte Motor Speedway, big event, we had 1600 cars. [It] sounds like a lot of cars, and . . . they allow you to have up to six people per vehicle, but on average, there's probably maybe four people per vehicle. So if you multiply that out, 1600 cars times four people per car is only 6,400 people. That's small, . . . that doesn't make anything close to the revenue that we're accustomed to."
Another innovation that the industry came up with is a new way to hold large outdoor concerts. This was first done in New Castle, U.K. Farah says, "that was done in a large field. Big, open field where they kind of set up a large semi permanent venue, with a big stage at one end and they had open areas, like, kind of cordoned off for picnic style. Then [for] the VIP sections they built [platforms. They were] eight foot by eight foot square[s], each of them railed off, and there was a table and chairs. You could afford six people in there." This concert style had similar success to the drive-in concert, but because of the cold weather, is no longer an option.
While drive-in concerts will never take over fully, it does have some upsides.
"If we're at a big space, and you don't have good seats, you're in the way back. You hear it, but you don't hear it like it's right there . . . But, with [the sound] being transmitted directly to your car itself perfectly crystal clear, you can make it as loud or as soft as you want. And [for] the person 500, 800, ft away, it sounds just as good as the front." Because of this among other things, drive-in concerts are a "viable concert method."
Now knowing that it is possible to have some form of a concert during a pandemic, the natural next question is: "What happens next?" The next question that needs to be answered is what concerts will look like in the year 2021. One of the possible implementations that is being talked about regarding concerts is requiring some sort of proof of vaccination.
Farah says, "There's talk of the possibility of maybe getting a vaccination passport. Basically, a certificate saying, I've been vaccinated. I got the COVID-19 vaccine. I'm safe." The vaccination passport will serve as a way to make sure that concerts with tens of thousands of people remain safe despite the fact that there is a virus going around.
"It's been very difficult times, and [our] sole goal is to survive until concerts [are] back," says Farah.