Georgia Runoff Election: What Is It? Why Is It So Important?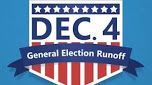 The presidential election has concluded however the election season has not yet ended. Georgia's senate race has been prolonged into a runoff election. The runoff election will be held on the fifth of January.
To put it simply a runoff election is held when none of the candidates campaigning for a seat in the senate gained enough votes to have a majority. "If no candidate breaks 50 percent, the top two vote-getters then face off again in a runoff election to determine the winner," stated The New York Times.
As a result, to make the odds of one candidate gaining the majority of votes greater, the ballot will only include the names of the two top-voted candidates. This simplifies the election process because fewer names on the ballot means a more concentrated amount of votes for a favored candidate, therefore, a majority holder should emerge.
This senate election year for Georgia is unique for another reason; Both of Georgia's seats in the senate are open for the taking. This is extraordinary because usually the seat election times are staggered so that they do not fall on the same year. This has happened because, "Senator David Perdue, a Republican, was facing a normal re-election race for the seat he won in 2014. In addition, Senator Kelly Loeffler, another Republican appointed last year to succeed Senator Johnny Isakson after he retired because of health issues, was facing a special election to serve out the remainder of his term until 2022," stated The New York Times.
Which party has control of the senate also weighs in the balance of this election. At this point in time before the runoff, the republican party holds 50 seats. The democratic party holds 48. If both elections on Jan. 5 sway to the democratic side, the democratic party will hold an equal number of seats in the senate.
The following article by APM Research Lab (a group of, "researchers who inform the public with both original and curated research, facts and analysis," stated APM Research Lab) provides helpful graphs to understand the importance of this election: https://www.apmresearchlab.org/senate-control-2021
Voters must register by Dec. 7 in order to be eligible to vote in the runoff.