Is McIntosh Going Green?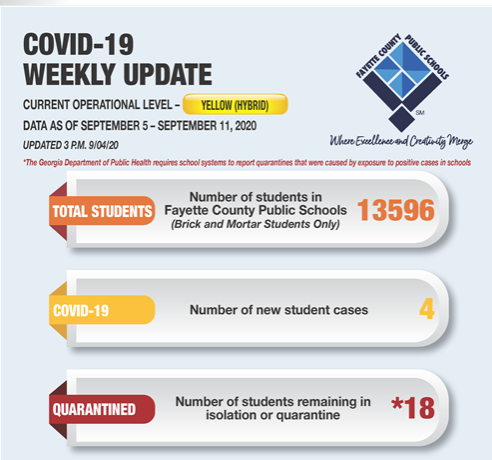 Students have been in school for five weeks now on a hybrid schedule. This schedule consists of half the students being at McIntosh on Monday and Tuesday and the other half being in person on Thursday and Friday. This schedule was named yellow (hybrid). However, changing to a green schedule may happen in the near future. This means all students would be back in school every day of the week.
According to the COVID-19 Case Status Report published every week on the Fayette County Board of Education website, there are four new cases among students and one new case among staff last week.
These numbers are consistent with weeks prior. As a result discussions are being held about possibly changing to the green schedule.
"Our community COVID-19 cases and school COVID-19 cases are trending low, so we are beginning to look at how to safely bring students back into the schools for more than just two days a week," said the FCBOE Public Relations Specialist Melinda Berry-Dreisbach.
This was the topic of discussion of an FCBOE board meeting held on Sept. 14. In this meeting, there was a decision made to discuss the schedule change with all of the Fayette County school principles. This meeting was held the next day on Sept. 15.
No information has been released yet regarding whether or not schools will be changing to green schedule, "Dr. Barrow is going to share what was discussed with the board of education before making our plans public." However, "we should have information to share in a few days," said Dreisbach.