AP Night: Here's What You Missed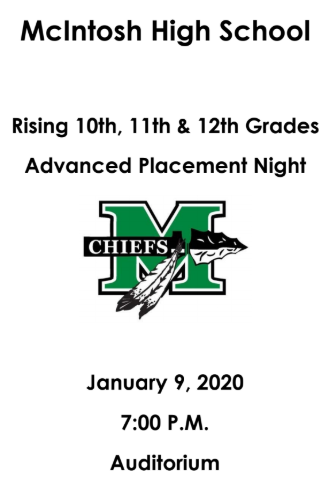 AP Night was held Thursday, Jan. 9 at 7:00 pm. The event began with a presentation that included a description of AP courses, qualifications, and an explanation of the application process. This information is available in the slideshow at this link.
After the informational meeting, parents and students had the opportunity to participate in five 20-minute sessions. Students visited the classroom of their choice to learn more about AP classes. During each session, teachers presented information about their course, including class content, prior pass rates, and homework expectations. Most sessions closed with an opportunity for questions.
Students that missed AP Night can find school-wide information under the Advanced Placement tab on the McIntosh High School website. For specific information regarding course content, visit the College Board website for course descriptions and an outline of the exam. Finally, for any further questions or individual questions, students should speak to teachers or their counselor before or after school to ensure that their anticipated AP course load is right for them.
In order to enroll in an AP course for the '20-21 school year, all interested students must complete an online application. Look under the Advanced Placement tab on the McIntosh High School website for the link to apply. All applications are due by Friday, Jan. 17 at 8:00 pm.