Looking at 9/11 Through the Eyes of Teachers
Yunju Lee, Features/A&E Editor
September 11, 2019
On Sep. 11, 2001, the Islamic extremist group, al Qaeda, flew and crashed four planes in the United States: two in New York City, one in Washington D.C., and one in Pennsylvania. This year marks the 18 anniversary of 9/11. To some, the event remains vivid. But to many of the students currently attending McIntosh High School, 9/11 is just another word in history books. To commemorate this date, the Trail asked teachers where they were during 9/11.
Most people couldn't believe it when the first tower collapsed.
Jason Coleman was teaching at a high school in De Kalb County when the first plane hit.
"One of the other teachers said 'You need to turn the TV, now'," said Coleman. "At the time, only the first plane had hit the World Trade Center towers. There was no indication right then that it was a terrorist attack; we thought it to be an accident."
But they soon learned that it wasn't an accident.
Janet Hansen was at home watching the television when the second plane crashed into the towers.
"The second one had hit and we knew that it was not an accident," said Hansen. "We were glued to the TV all day."
Some of the teachers at McIntosh were still students.
Jane Welch was only 13 when 9/11 happened.
"It was probably the first time that I felt like really big, bad things could happen to us here in the United States," said Welch. " Somehow, because I was really little, it felt like the first time that something really, really major happened in America, and it happened on our soil so really it was kind of this realization that bad things can happen to us here. There was this definite realization that things can happen to us. We're not invincible."
Brandon Murry used to live in New York from 2000-01, but he had moved out of the city to Las Vegas in July 2001. His old high school was blocks away from the World Trade Center.
"It was early in the day in Las Vegas," said Murry. "I was going to chemistry class when they pulled me out because they knew I had just come from New York City. I didn't know what to think; I just went back to class and we had it on TV. On the TV, they had a bunch of shots from my school. I was seeing students. You were seeing the towers coming down and the students running away from everything. They actually had to use the high school as a command center during that period."
Danielle Okamoto was a high school student in Connecticut when the towers collapsed. She was out on the athletic fields when her gym teacher had called Okamoto and her peers over to tell what had happened.
"It was scary. People from my hometown were in the towers and in the city. I grew up about an hour outside the city in Connecticut so parents commuted into the city on the train. Because of being in high school–I think I was a junior–it made me more aware that the world was not as safe as I always thought it to be."
Other teachers were teaching at the time.
Laurette Edenfield was teaching at McIntosh when the first plane hit.
"A teacher knocked on the trailer door and pulled me out to the porch and said that the country was under attack," said Edenfield. " It was kind of shocking, you know. I did not have a TV, I didn't have internet out there; I was completely blind to what was going on, but I did have a radio. So I turned on the radio to listen to what was going on, but it wasn't until lunch when I was able to interact with other teachers that knew what was happening. It was a shock."
Mark Kienast was also teaching at McIntosh. He was teaching a current issues class when the news arrived.
"It was really interesting teaching
Cynthia Neeley was teaching at Booth Middle School.
"At Booth, the administration didn't let the teachers turn their televisions on because they didn't want the students to be upset. "I was in class when the planes hit the tower so I didn't get to see anything until I got home that night, said Neely. "But several of my colleagues had husbands that were either in the Pentagon or were in New York, and it was very chaotic for them, not knowing where their family was."
NOTE: This story initially incorrectly reported Edenfield was teaching an auto class when the first plane hit. The Trail regrets the error.
About the Contributor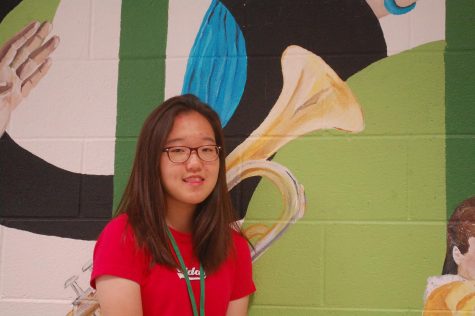 Yunju Lee, Features/A&E Editor
Junior Yunju Lee is the Features/Arts and Entertainment editor of the McIntosh Trail. This is her second year on the staff, and she is looking forward...