2019 Graduation 411- What to Know Beforehand
Hang on for a minute...we're trying to find some more stories you might like.
As the school year ends and the graduation day approaches, students yearn for the final day: May 24. Seniors prepare for graduation with a senior breakfast on May 23, at 10 a.m., where they will receive chicken biscuits. After that, there will be a mandatory graduation practice on the football field. Students have been warned that if they do not attend, they will be removed from the graduation lineup. At 6 p.m., the students will return to the school and go to their designated classrooms in preparation to walk.
Administration reiterates that dress code will still be enforced. No heels will be allowed for the females due to the turf field, flats or wedges are recommended. Students are expected to dress well. Males will be expected to wear a white shirt, dark tie, dark dress pants, and dress shoes. Females will wear a light dress, skirt, or slacks with a blouse. Jeans will not be permitted.
The ceremony will start at 7:00 p.m., so allow adequate time to find a parking spot. Seniors are issued one parking permit per family which will be placed on the car to verify that the car is permitted.
Parents and guests will not be permitted on the track or field during graduation to take pictures and/or to observe the ceremony. A professional photographer will take pictures of each graduate receiving his/her diploma. Information about purchasing this photograph will later be mailed out.
Diploma covers will be issued at the graduation ceremony. Students will report to the gym immediately following the ceremony to pick up their actual diploma and other paperwork.
Final transcripts should have been ordered through the guidance office by last week. Final transcripts will be placed in the graduation folders to be picked up after graduation.
About the Writer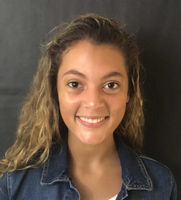 Katrina Skonberg, Opinions Editor
Writer Katrina Skonberg is the McIntosh's Trail Opinion Editor for her second year. Outside of journalism, Katrina runs for cross country, swims on McIntosh's...