Foreign Language Department Celebrates Foreign Language Week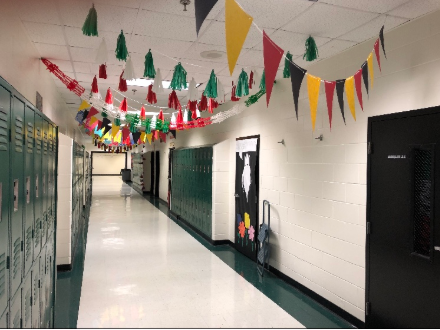 Hang on for a minute...we're trying to find some more stories you might like.
The foreign language classes of McIntosh, such as French, Spanish, German, and Latin, held their annual celebration of foreign language week during the final few days of the last week of February and the very first of the first week of March. On the days leading up to the celebration, teachers and students decorated the classrooms. Students also spent the days leading up to March 1, better known by language classes as food day, purchasing and preparing various dishes to share with other students.
Brooke Lloyd's Spanish three class spent the first few days of the week decorating their room in green streamers, green balloons, and even a big green lime pool float hung from the center of the classroom. To entice students to try the dish prepared by Mrs. Lloyd's class, "carlota de limon," a poster advertising the dish. A limonade stand was constructed.
Sophomore Jessie Hart made the poster advertising the lemonade stand. Hart said, "Making the limonade sign for the class was one of my favorite aspects of the whole week. The sign, the green streamers, and green balloons really made our room stand out from the others."
However, before any food was exchanged throughout the classes, on Feb. 28, the students were partnered up with their classmates and took on other students from different classes as they battled to complete a scavenger hunt. After the first, second, and third place teams had completed the race and been announced as the winners, it was then on to the next challenge. They followed the scavenger hunt with a kahoot game of random trivia questions about foreign countries.
Sophomore Harrison Barro participated in the scavenger hunt and kahoot game. Barro said, "On top of the food and treats of foreign language week, my team won the games and we were rewarded with extra points."
After Thursday, the much-anticipated food day was only twenty-four hours away. Students that had signed up to prepare dishes for the event worked with their friends and other group members who they'd chosen to partner up with.
Sophomore Emma Cain, one of Lloyd's Spanish 3 students, helped to prepare the dish for her fifth-period foreign language celebration. Cain said, "I might have messed up on following the recipe just a little bit, but it still turned out edible and seemed to be a popular dish by the looks of my classmates' faces."
Some other dishes featured in the foreign language week celebration were: Latin teacher Liam Shannon's grapes, grape juice, bread, and cheese, Spanish teacher Irma Schwingshakl's empanada, German teacher Kevin Keough's sausages, Spanish teacher Dennise Daniels' "ropa vieja", French teacher Amanda Breland's "croque monsieur" (French ham and cheese sandwiches), Spanish teacher Maria Ramsey's "tinga," French teacher Johanna Sharp's Nutella croissants, Spanish teacher Theresa Togneri's "cocada" , and Spanish teacher Lector Zamore's coconut macaroons.
Sophomore Kirsi Midha enjoyed the fourth-period foreign language festivities. Midha said, "Each class served delicious dishes and the games were super fun to play with classmates. The whole week just made me look forward to next year's foreign language week even more."
About the Writer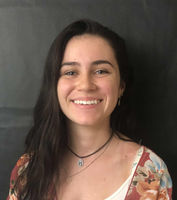 Marissa Shockley, Staff writer
Marissa Shockley is a sophomore at McIntosh High School. Her hobbies are photography, writing, and editing photos and videos. Extracurriculars that she...