Baseball and Track Pizza-Eating Contest Feud
Hang on for a minute...we're trying to find some more stories you might like.
The McIntosh baseball and track teams are some of the biggest spring sports teams at McIntosh that usually don't have any correlation between each other, until now. A feud has struck the two teams over who can eat the most pizza.
The 2019 baseball team started a tradition of going to local restaurant, Partners Pizza, for team bonding. This restaurant has become the hub of this friendly competition.
"We go to buffet night every Monday and try and break our previous record each time", said sophomore Braxton Roop. The baseball team's pizza-eating record was 337 slices of pizza with 10 people, but recently the track team beat that record, eating 364 slices of pizza with 17 people.
Freshman track runner Gavin Shelfo scarfed down 42 slices of pizza.
"I'm glad I didn't get sick, but I told myself if I did, it would still be worth it because I helped get the track team a win against the baseball team," said Shelfo.
"Beating the baseball team was a lot of fun, but I also get the satisfaction of getting my money's worth by eating 20 slices of pizza from an $8 buffet," said junior Jagger Schwartz.
The baseball team is retaliating with a lineup of 15 boys for their next pizza eating competition. "We have to defend our record because they dishonored it. No matter how stupid it may seem," said sophomore baseball player Joey Pressel.
"Baseball tried defending a win for a pizza eating contest, but let's see them try winning state like us," said runner sophomore Abby Routon.
"We did it for fun, not to start a war," said junior track team runner Greyson Graf. "Either way, we didn't have our top varsity eaters, but I promise you, track has nothing on the Cross Country team."
Athletes responded to one another by dominating social media platform, Snapchat, by creating memes and sharing them and mimicking the other team.
The baseball team's system on counting how many pizzas they eat, is to eat the pizza but to set aside the crust on another plate. At the end of their feast, they add the total number of crusts then have to finish those too. "This is exactly the reason I don't work on Monday buffet nights," said senior Partners Pizza worker and McIntosh Trail news editor Anna Muh.
Although the teams seasons have ended the traditions won't, it will be interesting to see what other McIntosh sports team will take on the challenge to beat the new record of 364 pieces of pizza per person.

About the Writer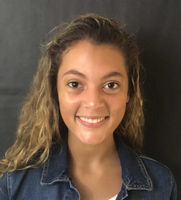 Katrina Skonberg, Opinions Editor
Writer Katrina Skonberg is the McIntosh's Trail Opinion Editor for her second year. Outside of journalism, Katrina runs for cross country, swims on McIntosh's...