Neo-Nazis March in Newnan
On Saturday, April 21, there was a neo-Nazi march in Newnan, Ga. The march was organized by the National Socialist Movement, one of the largest neo-Nazi organizations in the US and the same group that terrorized Charlottesville, Va., last August.
As was the case in Charlottesville, when groups like the National Socialist Movement descend on a town for a march, people get nervous about opposing sides joining together in counterprotest since these events can turn violent.
Contrary to worries voiced throughout the community, Saturday's march and counterprotest activities remained civil. This could be in part thanks to the festival that was held near the town center, dubbed #NEWNANSTRONG, along with heavy police presence. Local businesses also closed their doors during the march to show their support for #NEWNANSTRONG and to register their disagreement with the neo-Nazi's agenda.
Because the National Socialist Movement carries such a negative message, many in the community are torn on whether they have the right to protection under the first amendment. Senior Samuel Ellis thinks they should, especially because that also means his freedom of speech is also protected.
Ellis explained, "I think it's great that they have their freedom of speech because I have the freedom to not shop at their businesses, I have the freedom to not hire them as my attorneys, I have the freedom to ostracize them from every economic aspect of my community, and in a capitalist economy, that will kill them, and that is my point of pride."
Other students expressed similar opinions, agreeing that the group should be allowed to exercise their freedom of speech even if they do not support the movement.
Freshman Kennedi Malone remains concerned and feels that we , as a society, should keep an eye on this kind of speech when it borders on hate speech.
Malone said, "It's protected under the freedom of speech but I personally don't think it should be allowed because history repeats itself and we do no want to have another Nazi revolution."
About the Writer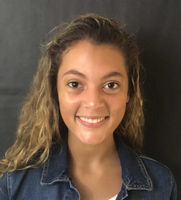 Katrina Skonberg, Opinions Editor
Writer Katrina Skonberg is the McIntosh's Trail Opinion Editor for her second year. Outside of journalism, Katrina runs for cross country, swims on McIntosh's...