McIntosh Students Join National School Walkout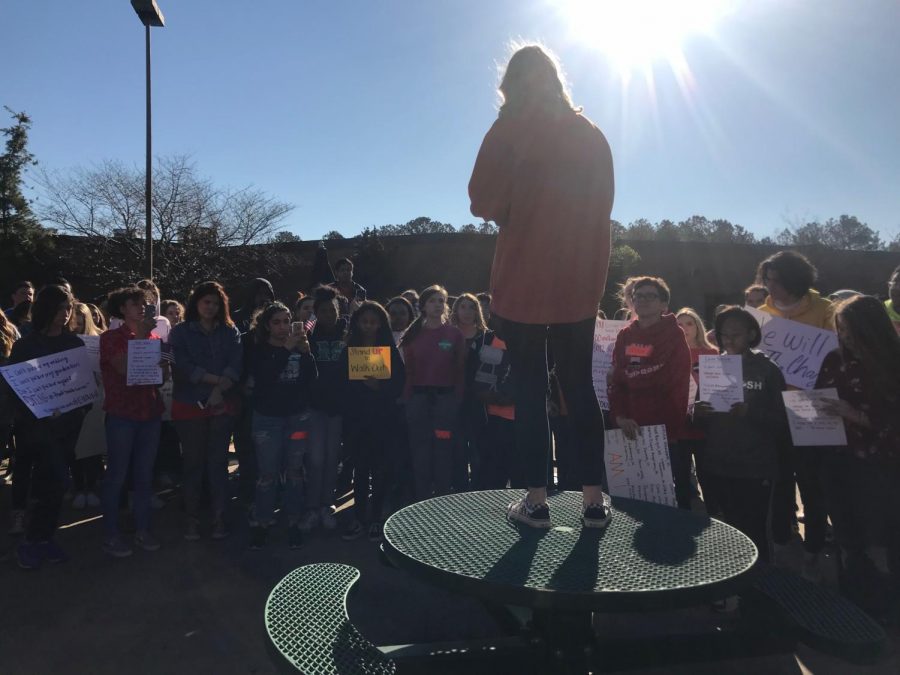 Alyssa Amaya, Staff Writer
March 27, 2018|182 Views
On March 14, students around the country walked out of class at 10 a.m. for 17 minutes to honor the 17 victims of the shooting at Stoneman Douglas High School. The walkout occurred a month to the day after the Feb. 14 shooting that traumatized the Parkland, Fla., community and devastated the nation.
In spite of consequences issued by the school for students who left class, about 100 students at McIntosh participated in the walkout. At 10 a.m., students left class and went to the courtyard, where junior Morgan Tracey made a speech, followed by a minute of silence for each victim, during which students held up homemade signs with each victim's name and details about their lives and tragic deaths. Students also wore stickers provided by school administrators.
The nationwide walkout was part of the #NeverAgain movement, which was started by Stoneman Douglas High School students after Nikolas Cruz, a former student at Stoneman Douglas, entered the school with an AR-15 and killed 17 people and injured dozens more.
A number of Stoneman Douglas students and their families, overwhelmed with the number of deaths and injuries caused by gun violence in their community and across the nation, decided that they could no longer remain silent on gun control issues. They created the #NeverAgain movement, which has gained traction around the world.
McIntosh students joined the organizers of #NeverAgain and the nationwide school walkout in their determination to practice their free speech at school, despite the consequences issued by many school districts. Unlike several other schools in the state, some of which locked students inside the school so they could not leave, McIntosh allowed students to participate in the walkout, though it did not officially sanction the event.
Prior to organizing the walkout, McIntosh student leadership had meetings with the administration to discuss the school's position on the walkout and potential consequences students would face if they chose to participate.
Senior Ryan Fritz was one of many who organized the walkout at McIntosh. While the #NeverAgain movement focuses primarily on gun control, Fritz acknowledged that students have a wide range of views on the issue.
"Certainly everyone had their own personal reasons to walkout but as a group we tried to make it less political and more moral, but personally I think there is more we can do as a country," he said.
Senior Isabella Skonberg agreed about the wide range of opinions that inspired students to walk out. She believes that a distinction needs to be made between recreational hunting and military weapons when it comes to gun control. Ultimately, though, the walkout seems to be about change.
"I want change," said Skonberg. "I want to stop the senseless mass shootings that could have been avoided if the government regulated assault rifles."
Since the start of 2018, there have been 14 school shootings. These shootings join other mass shootings around the country. On Oct. 1, 2017 in Las Vegas, there was a shooting at a festival that left 58 people unable to return to their families and hundreds more injured. The shooter had brought 23 guns in his hotel room and contained different types of guns and specifically used an AK-47 type rifle.
These mass shootings have clearly caused pain across the country, and students at McIntosh and across the nation are speaking out. It appears they, and the adults who agree with and support them, will not not stop fighting until there is change. Since the March 14 walkout, there have been national protests and marches in most major cities, including the March 24 "March for Our Lives" in Washington, D.C.