Solar Eclipse Visits McIntosh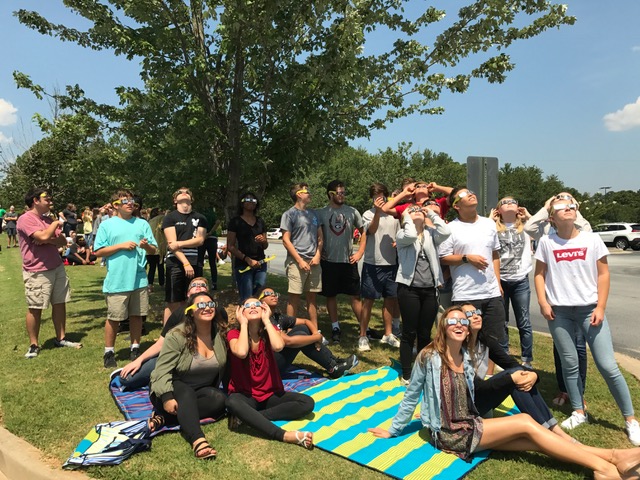 On Monday, August 21, the nation watched as the moon came between the sun and the earth in the first total eclipse that could be seen from the mainland of the U.S. since 1979. In many parts of America, light was completely blocked for approximately two minutes and forty seconds. Scientists were calling it "The Great American Eclipse."
In Peachtree City, Georgia, there was a 97% blockage of light, but no totality. Prior to the eclipse, most students and teachers were excited about the opportunity to view the eclipse. Freshman Brandon Hays said, "Being able to see something that hasn't happened since the 1900s is really exciting."
Sophomore Ally Cullen shared similar views, saying, "I think it's really cool that we get to experience something so rare."
While many were excited, there was also a large percentage of people that felt that the eclipse was not worth staying after school for. Freshman Rebecca Muh said, "It's a waste of time and it's stupid that we have to stay after school because of it."
Senior Maddie Luedecke said, "It's just not worth the extra hour."
Others thought that the experience of seeing the eclipse would be better at school. Senior Annie Graham said, "I'm really excited to see it because it's a once in a lifetime experience. I think it's worth it to stay in school an extra hour because now I can have a planned time to see the eclipse with some of my friends."
AP and gifted Biology teacher Ms. Stephanie Sisk said, "The fact that the county has provided this extra time, specifically for watching the eclipse, is a win for students. Instead of teachers choosing which students are able to view the eclipse, everyone is involved. Yay, science!"
Anticipation was high, but many people had very different views of the eclipse experience after it had happened. Though 97% is a large percentage, when compared to a force like the sun, the extra 3% is actually a considerable amount of light. Many students were disappointed by the lack of the mystical, life-changing experience described by many mainstream news sources leading up to the event.
Freshman Miles Call said, "That was so underwhelming. I guess it was kinda cool, but we shouldn't have had to stay an extra hour."
Junior Sarah DeNell said, "Everyone built it up so much, and it was a new experience, but it was not worth all the hype."
In spite of the mixed responses, the eclipse was an astrologically important event, with the penumbra covering so much of the country. According to NASA, most calendar years have two eclipses. However, not all eclipses are total, and the light is not blocked from reaching the entirety of the earth. While there will be another total eclipse that goes across America in 2024, the totality will not cover nearly as much of the country as the one on August 21.
About the Contributor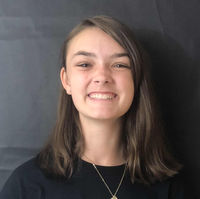 Sylvie Call, A & E Editor
Sylvie Call is a senior at McIntosh and has been with the Trail for three years; this year marks her second as the Arts and Entertainment (A&E) editor....