Students' academic success recognized
McIntosh students' academic success was recognized on Thursday, Sept. 15. Those with previous semester grade averages between 85-89, received the bronze award, which were goodies bags with various snack items. Those with grade averages between 90-92.9, were awarded the silver level treats, which were ice cream sundaes. Those whose grade averages  were 93 and above, were rewarded with the gold level treat, a lunch from either Moe's Southwest Grill, Dominoes, Chick-fil-A, or Arby's.
Sophomore Maddie Weaver said, "I don't think being rewarded necessarily motivates me because I try hard on my own, but it is definitely nice to know that my hard work doesn't go unnoticed. The goodie bags, sundaes, and lunches just let us know, as students, that our hard work isn't for nothing. I think it may be annoying or disappointing to those who didn't make the cut with their grades to not get anything, but it may motivate them for next semester, so that could be a positive thing."
About the Writer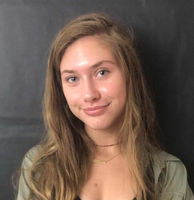 Arden Estep, Opinions Editor
Arden Estep is participating in journalism at McIntosh High School for her third year in a row. Last year, she enjoyed being the Opinions and Editorials...