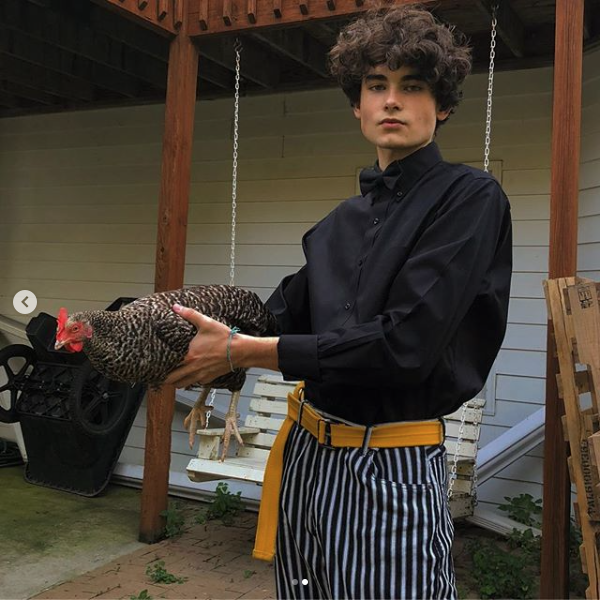 Humans of McIntosh: Meet Riley Campbell
Here at McIntosh there's a variety of students who are diverse and are able to represent McIntosh High School in their own unique way. Some students express their individuality by playing instruments, by excelling at schoolwork, or by playing sports. For senior Riley Campbell, though, he uses fashion to show off his creative side.
Campbell is constantly coming up with new looks to match his personality, like pairing unexpected colors and patterns. He wears green on yellow, blue on red, and orange on pink. Campbell also mixes unexpected patterns like checkers and stripes, accenting these outlandish outfits with eccentric accessories. Campbell uses shoelaces, nail polish, and rings to pull his outfits together. He uses shoelaces in the place of belts and various rings to compliment his outfits. He enjoys breaking the gender normalities by wearing nail polish, an accessory categorized as feminine. "Nail polish is pretty and makes people mad," said Campbell. He enjoys getting a rise out of people when he wears nail polish. He believes that it should not be categorized as "feminine" because fashion is for both genders.
Campbell has received reoccurring backlash from wearing his outfits of choice. Many people have told Campbell that his fashion looks "gay" or "queer" but Campbell is able to brush off those comments with poise. "When people call me gay or the f-word I feel more confident because it means I'm doing something well enough to catch someone's eye and allow me to occupy their mind which perpetuates said confidence," said Campbell. "Contrary to popular belief I am only like 27 percent gay," he jokes. Comments that are meant to be insults do not affect Campbell or his outfit choices.
He draws inspiration from actors Timothee Chalamet and Lucas Bin. "Basically," Campbell said, "every cool person ever." His wardrobe consists of indie styles and all the colors you can possibly think of. He shops at consignment stores like the Goodwill and the Salvation Army. Campbell prides himself on not looking "mainstream" with any of his outfits.
Campbell's exotic fashion sense has gotten him to be noticed by modeling companies. Currently, he works for an Atlanta modeling company and spent a weekend in New York City for Fashion Week. He worked with IMG models and New York Models.
Campbell is also interested in many other things. He enjoys music, photography, and politics and hosting gatherings at his house with close friends on the weekends.
This is Campbell's last year at McIntosh High School, so with his fashion, he is going all out. He is "full sending" his senior year and fully embracing his style.