On the headset preparing for the next play, it's always easy to pick him apart from the rest of the team standing along the sidelines; he follows the ball down the field and in front of the line of players. He's on the headset. When the Chiefs score, he saves his excitement and celebration for when the final whistle blows and the Chiefs outscore their opponent – as was the case on August 18, in the third-annual Fight for 54 against the Fayette County High School Tigers.
Final score: Chiefs 37, Tigers 24. The third win in a row.
"[I] always like the first game of the season, to see a little bit of excitement that everyone is ready to go, especially when it's a home game. We're going to have a nice student section; the stands are going to get loud, they're [going to] get crazy. The fact we are playing a rival game in the first game makes it even more exciting for the Battle of 54 we are about to have. I'm happy, I'm excited," Head Coach Derek Smith said before that game.
Smith, in his second year at McIntosh, strongly believes the McIntosh Chiefs have a great chance of making it to the playoffs for a second year in a row.
"We returned a lot of players; they're brought into everything that we taught them last year. They're a very exciting group; they're an athletic group and I think they are [going to] get themselves to go far in the playoffs this year," Smith said.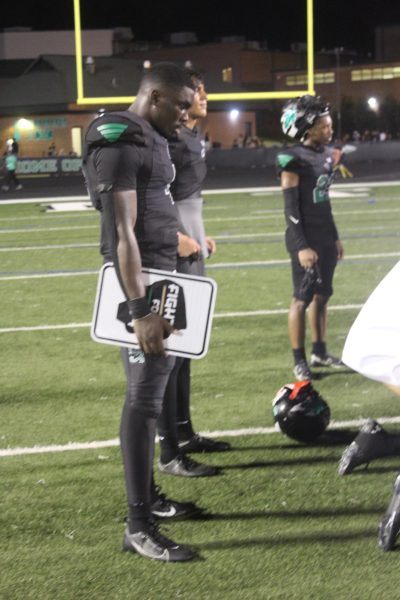 Senior Defensive End Uche Iloh has had two head coaches in his four years at MHS, and appreciates Smith's coaching style.
"[Smith is] really aggressive but at the same time relaxed. And that's what you need. At times you can be really aggressive at the right time, but at the same time, he's calm and he's very understanding," Iloh said
Iloh compared Smith's coaching style this year versus last year.
"The main difference is really just how relaxed and how poised he is. I remember last year he was way more aggressive and straight to the point, but this year he's way more relaxed and laid back but still aggressive, which is what we need," Iloh said.
Iloh appreciates that Smith is forward-thinking in terms of playing football beyond high school.
"Really just bringing in a bunch of coaches [with the same objective as him]. His presence has brought in a lot of mentors for players who are trying to make it to the next level and play in the [big leagues]. He really [helps] us all out," Iloh said.
When Smith coaches, it isn't only for the game; it's greater than that. Life and family is important to him, and football is the metaphor he uses to teach those lessons.
"I mean, he helps me become a better man. The way I see him, I see him as like another father and he just treats me like a son. I really respect that because you don't really get that all the time," Iloh said.
What Smith has brought to McIntosh High School football is the coaching know-how to get the team more physical, to hit harder, to push. To lay it all out on the field.
"Football [is] archaic. It's a very, very brutal [and] archaic sport. When you think about it, you're asking grown people to hit each other as hard as they can. Lots of injuries occur. So you have this archaic mindset of brutality when you play. You don't have to be a brutal person off the field. But when you're on the field, you have to have this brutality mindset. I kind of coach the same way. I coach [at a] very high intensity level. And I coach in the mindset of 'push brutality, push this hard brutality' mindset on kids, to make them understand that it's a battle you have to fight through adversity and to fight through the pain and fight through negative and constantly be in a competitive mode. I think that's what I really brought to the table when it comes to that because  that's how I am. Now off the field it's different, be a great person, be somebody that everybody likes to be around but on the field you [have to] be brutal," Smith said.
In the seventh week of the season, the Chiefs are currently sitting at a record of five wins and two losses – one against Central Carrollton on Sept. 8 and the other against Northgate on Oct. 6. 
Smith is keeping his outlook positive. 
"Obviously, we like the fact that we're five and two and everybody wants to be undefeated. I mean, it'd be better to say we're seven and zero," he said. 
According to Smith, the team is only lacking time. But it's time they can't get back.
"I was talking to our coaching staff this morning, and a lot of people don't realize this. When you make it to the playoffs, at least one or two weeks, you're practicing one or two weeks more than the rest of the state does. So if a freshman does that, he gets to practice two extra weeks. And he does it three times. By the time he's a senior, he's had six extra practices or six extra weeks. That's half of the football season. So when you look at it, ten weeks is a football season."
But Smith is working to build that mindset into the team.
"Do I think that we're playing good football? I think we show signs of being a great football team. And then occasionally we show signs of an immature football team. The reason why is [because] winning has to become a traditional thing. A traditional program that makes it to the playoffs year in and year out, their kids get a half a year more of their sport than the rest of the state does. That's when the immaturity of a football program stops. Because they've been there, they've done that. Whereas last year was the first year in the playoffs since eight, nine, ten years ago, and only [the] second or third time in school history. So our kids haven't built that tradition yet, but they're almost there. It's kind of like you get up to the line, you get in line, and you're ready to dive in a little cliff and you're ready to jump in but you chickened out last week. Am I proud of what we're doing? Yes. Is it where I need us to be? No. So we're almost there," Smith said.
The last two games in the regular season are Northside-Columbus at home on Oct. 27 and away at Harris County on Nov. 3.