The Master of Ceremonies for the 2023 McIntosh Homecoming parade was Jerry Prince, former parking lot attendant since 1989. He is retiring this year. Before coming to McIntosh for 34 years, he worked for Bell South for 30 years. 
Prince has left a good impression on the staff, and teacher Allen Beall has good things to say about him.
"Jerry Prince is caring, thoughtful, loving and hard-working. He brought joy to people who were having a bad day. I am so glad that my and his paths have crossed in this life. [After retiring from Bell South] he could have left and played golf and whatever he wanted, but he didn't," Beall said. 
Some of the staff at MHS were students when Prince was the parking lot attendant. 
"When Ms. [Amy] Hammock, Ms. [Shanon] Woolf, and Ms. [Nicole] Guest were all students here so he's an institution, and we're sorry to see him go," Assistant Principal Dan Lakly said.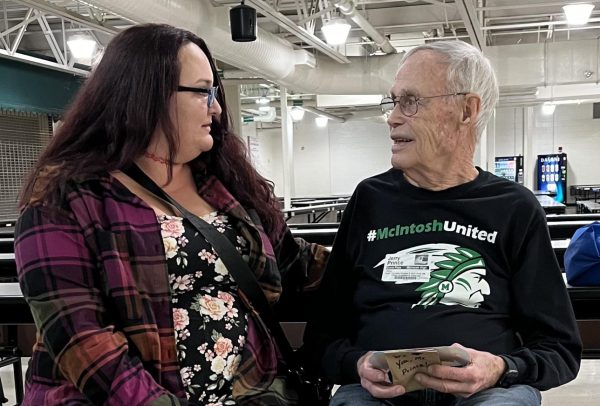 People have many stories about him and his job as a parking lot attendant. 
"He would always check the cars and make sure everybody had their passes, but even more so he would make sure no one was leaving campus. We had to make sure that Mr. Prince was nowhere to be found because he would always catch everyone," Guest said.
Prince still has a few plans for what to do after his retirement. 
"I may do a little traveling, and I've got relatives, I go see them a lot. I have two boys and we're going to maybe go to Las Vegas, California, and places like that. And I work around the house."