Winners of Dancing with the Chiefettes
First place

Seniors Daisy Fidler and Landon Dolhancyk won first place for their tango performance. Coach Carmen Yarborough gives them their awards.

Second place

Juniors Khami Willams and Alicia Bueno for their britney spears.

Third place

Junior Lila Egsieker and senior Trey Malloy won third place for their country performance.
The Chiefettes Dance Team holds a fundraising performance called "Dancing with the Chiefettes" and this year it was on Sept. 28.
"[The fundraising] was to pay for competition expenses and [ all of our other expenses]," Coach Carmen Yarbrough said.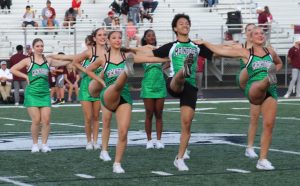 Dancers on the McIntosh dance team chooses another male athlete from MHS to perform a choreography. Earlier this year, the Chiefettes picked a theme randomly from a bucket. The dancer and the athlete worked together to make a choreography, make their own music mashup and choose their outfits according to their theme. At the performance there are three judges who score each pair of performers based on costume, performance, choreography, coordination and other criteria.
"Trey's been my [Dancing with the Chiefettes] partner [for three years] so it was pretty easy to teach him the dance. He's super nice to work with and every year he always puts in 100% commitment which I appreciate," Egsieker said.