Afraid to "comeback:" high-level athletes recovering from injury
Everything happened so fast that I could barely comprehend what happened.
On July 31, 2022, my team and I were in the middle of a tight game. The game was to fifteen points, and the score was thirteen to ten in our favor. My teammate passed a ball tight, so I jumped in order to hit it over the net. I made contact with the ball and immediately knew I was going to land off balance. My left foot touched the ground and I heard a loud pop come from my knee. I collapsed to the floor and tried to will myself to get back up. As soon as I put pressure on my left leg, I felt it. Excruciating pain. And I knew my season was over.

"
As soon as I put pressure on my left leg, I felt it. Excruciating pain. And I knew my season was over.
I started playing volleyball when I was in seventh grade and I began playing on a low-level team, but I jumped to the top team in my club the next year. I have been on the varsity team at McIntosh since freshman year, but I wasn't able to play this season due to my injury. In fact, I tore my ACL three days before our first game.
An ACL is the anterior cruciate ligament, and it is a key ligament that holds the knee together. The ACL can be torn when a person suddenly slows down, changes direction, pivots with a foot firmly placed, lands from a jump incorrectly, stops suddenly or receives a blow directly below the knee. Partial tears can be treated without surgery, but if the ACL is fully torn, surgery is needed for athletes to get back to playing. The average recovery time is six to nine months. Sometimes a return to sport test is at six months, and athletes are able to return to sport a few months after that, depending on the person.
I had my own ACL reconstruction surgery six months ago, on Aug. 26, 2022.
Today, I have a few weeks left before I can play volleyball competitively again.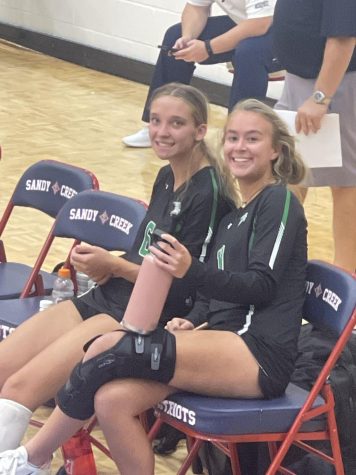 GOING BACK?
While going through the entire experience of having torn my ACL, there were times I struggled mentally. I kept asking myself "Is it worth going through all of this if I could just get hurt again?"
In the time between July 31, 2022 and today, I've questioned how much I really love the sport of volleyball. I have been drowning in the expectations of the people that knew me before I got hurt. I have felt alone for the majority of this journey, and I wondered if other people, other athletes, have gone through the same mental struggles.
McIntosh senior, and three-year varsity volleyball player, Josie Denney, explained what it was like for her to have to sit on the sidelines for a portion of the season after dislocating her rotator cuff in October 2022.
"It was difficult not being able to serve, especially because I was in the lead for most aces, [scoring with a serve], this season," Denney said in an interview in Nov. 2022. "Physical therapy is going okay, my surgery is coming up soon and after that the recovery is three to five months."
Junior Abigail Each, varsity swim team member, broke both her wrists in Nov. 2022, mid-swim season.
"I broke them on Thanksgiving break when I went snowboarding. I've had to immediately go back into racing, and I haven't [swum] in two months. It's very stressful being tired and so much weaker because I hadn't used my wrist muscles in so long that they are harder to use. I have to dive in the water a little differently because the impact of the water against your hands is a lot so I had to learn a new way to grab my wrists when I dive into the water. My dad had to do my hair and I even made him watch YouTube videos on how to do a ponytail. I have to do physical therapy every day and I have to work out my wrists every day," Each said.
THE PROCESS
The Boston Children's Hospital has some advice for people treating athletes that are going through recovery. According to the Boston Children's Hospital website, in an article about the physiological portion of athletic injuries, "It is important to look out for an injured athlete's mental health as well as their physical."
Stanford Medicine, a world-class medical school and hospital chain, found some statistics on injured athletes' mental health.
"
"I was just completely shocked [when I got hurt] and I was like 'There is no way this is happening.' I think it honestly p*ssed me off," Kimmel said.
— Caroline Kimmel, former MHS soccer player
According to sports medicine statistics posted to the Stanford Medicine website, "More than 3.5 million children ages 14 and younger get hurt annually playing sports or participating in recreational activities. More than 775,000 children, ages 14 and younger, are treated in hospital emergency rooms for sports-related injuries each year."
There are also a few responses to injuries that are quite common among athletes, mental health being one of them.
According to the National Collegiate Athletic Association (NCAA), "a problematic response to injury is depression."
Most of the time, there's a higher risk of depression among high-level college athletes. According to The British Journal of Sports medicine, "Among Division I players, 33% of injured athletes reported high levels of depressive symptoms."
Sports scientists have also looked into the topic.
"It is common for athletes to define their identities through their athletic achievements," Greg Shelley, associate professor in the Department of Exercise and Sport Sciences, said. "The dependence athletes have on their sports causes them to have higher depression rates when they aren't performing the way they want to or experience injuries."
IT'S PERSONAL
Division 1 athlete at Valdosta State University, McIntosh graduate of 2022, and four-year varsity soccer player, Caroline Kimmel, broke her femur and sprained her MCL and LCL her freshman year at McIntosh.
Kimmel doesn't know a life without soccer.
"You know how they say you have that one consistent thing in your life? That's soccer for me. Regardless of what is going on in my life, soccer has been the one thing I can turn to," Kimmel said.
She had a strong reaction to her injury.
"I was just completely shocked [when I got hurt] and I was like 'There is no way this is happening.' I think it honestly p*ssed me off," Kimmel said.
Like me, Kimmel also had to decide whether or not soccer was worth going through this recovery.
"When I found out that I sprained my MCL and LCL it made me think, 'Do I really want to do this? Do I really want to go through this?' I never really opened up about it. I was not [depressed] at the beginning, but I think for the rest of it I was genuinely depressed, but I did a very good job of hiding it. Especially for my loved ones, I would hide the fact that I was hurting. I got the thing that I use as an outlet taken away from me and I didn't know how to channel my emotions," Kimmel said.
Eventually, she found her inspiration again.
"Everyone was telling me I was strong and they knew it hurt but I didn't want pity. So I told myself that I was going to show them that I would come back stronger. I'm going to be better than I was before and better than the person that is playing in my position now because I want it," Kimmel said.
"
I felt a sense of panic through my body. This was in the middle of my process of getting recruited for one of my dream schools. I felt like [everything] was over," Yi said.
— Matthew Yi, varsity soccer
Another soccer player who went through an injury is McIntosh senior and four-year varsity soccer player, Mathew Yi, who fractured his left fibula at a college official visit at the end of his junior year.
"[When I got hurt] I said 'Oh it's probably fine. I get hit all of the time.' When I realized I couldn't stand, I started to get concerned. Initially I was concerned and as time went on I realized that the injury was serious. I realized that I fractured my leg. I felt a sense of panic through my body. This was in the middle of my process of getting recruited for one of my dream schools. I felt like [everything] was over," Yi said.
Yi went through a hard time during his recovery.
"During the summer my schedule was, wake up, eat, study, eat again, sleep and repeat. Mentally I was not going through a strong phase. I was really depressed and most of my friends were not there for me when I needed them the most," he said.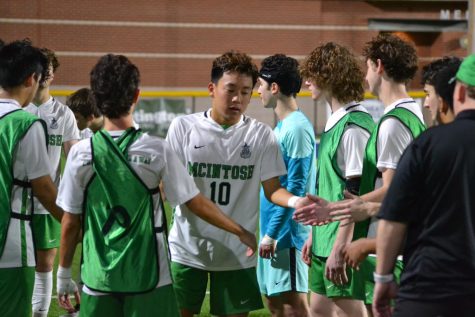 Getting back on the field again also had its challenges.
"When I found out I could start doing rehab, I tried my best to stay focused and not give up. But I kept thinking, 'What if I get hurt again.' I was physically ready to be on the field again but mentally I was nowhere near ready to be back. I'd be scared to touch the ball because I didn't want to break my leg again," he said.
GETTING BACK.
Yi then reached his turning point.
"I had an identification clinic at Saint Louis University and I wasn't cleared by my doctor [to play], but time was running out. I was a little scared at first but as time went on we started doing three-on-three and I started performing really well. Then we played a real game and I didn't even think about my leg," Yi said.
Kimmel has some advice for anyone going through something similar.
"I would say embrace every situation you're put in. It's going to make you stronger. I know it is cliche to say that you are going to come back stronger and better than ever, but that is absolutely true. But you have to work for it," Kimmel said.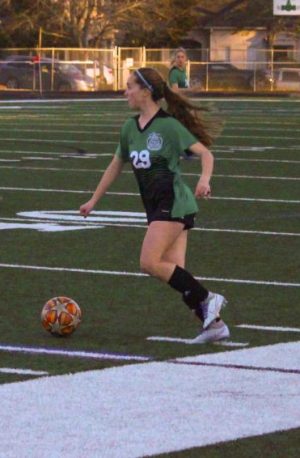 TODAY
I have told myself during the whole recovery process was that I wasn't going to be scared when I came back.
As much as recovering  was, I knew it was going to be painful. I knew I was going to have to do some hard things that were probably going to aggravate my knee. I wanted to come back and not be scared. My first practice back, I was a little nervous, a little hesitant, but since then, I've decided to just not think about it. If I get hurt again, I get hurt again. I don't want it to be because I was too scared to play all-out.
I'm still not at 100%. I've lost to some people at practice that I never in my life would think I would lose to, and that's inspired me to get back to where I was.
I'm excited to play in my first tournament in a few weeks. And I'm determined to go out and win.
Editor's note: Ava Flores is a staff writer on the Trail and a two-year staff member and team leader on the McIntosh Legend yearbook staff. She won an All-Georgia award for her sports photography in 2022.
View Comments (2)
Donate to McIntosh Trail - The Student News Site of McIntosh High School
Your donation supports the student journalists of McIntosh High School. Your contribution will allow us to purchase photography equipment and cover our annual website hosting costs.