Adopt-a-Stream rushes back to McIntosh
What happened to the MHS Adopt-a-Stream club, and how it's coming back
COVID-19 had a profound impact on the number of MHS clubs, dropping from 49 clubs featured in the 2019 MHS Legend yearbook, to about 20 in the 2021 Legend yearbook. One such club that lost activity during the pandemic is Adopt-a-Stream.
But now, it's making a comeback.
Adopt-a-Stream is a statewide organization, with 1269 volunteer scientists across the state. The club at McIntosh allows students to become a part of the organization, which monitors water quality of sites, of which Adopt-a-Stream covers 735, around Georgia.
The current sponsor of Adopt-a-Stream is Mary Beth Grabhorn, who teaches Environmental Science and AP Seminar at McIntosh.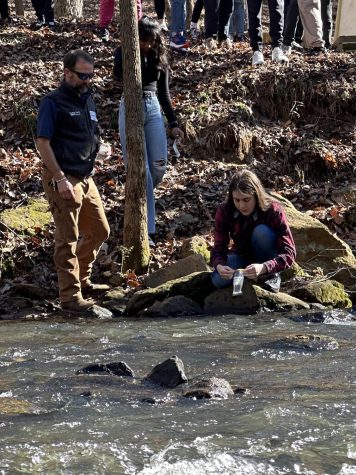 "[The club] was very active right before the pandemic with [science teacher] Samantha Krage, however, just now we're getting it started up again."
The main purpose of Adopt-a-Stream is for students to get certified on how to properly run tests on various water quality measures, and then collect data on water quality for test sites.
"We had pretty much 10 plus sites in the past; we're starting with two sites right now to get back into monitoring and building up to the other sites as well," Grabhorn said.
The club works in partnership with the state of Georgia's Adopt-a-Stream program, with local water officials.
"Ben Martin from the Fayette County Extension office, he's in charge of water resources for our county, and he comes in to train the students on what they're doing in their testing," Grabhorn said.
Students go to chosen sites in Georgia and collect data to ensure adequate water quality. According to the Adopt-a-Stream official website, "…Georgia Adopt-A-Stream encourages individuals and communities to monitor and/or improve sections of streams, wetlands, lakes or estuaries."
That is where students use the skills in testing that they've been trained for.
"…We're doing actual science in the field, where we are running tests and putting samples in incubators to see if it's growing bacteria. We are trying to determine if everything is in the normal range for pH, temperature and dissolved oxygen," Grabhorn said.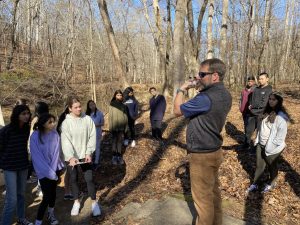 The data students gather is then updated in the statewide database of scientists and "citizen scientists," of Adopt-a-Stream, which is part of the Georgia Environmental Protection Branch.
"There's not enough people to monitor. [Our goal is] for people to pick up that absence of personnel and be able to report to the state that 'Everything's good here,'" Grabhorn said. "[T]hey're actually reporting to a database for Adopt-a-Stream for the state of Georgia."
This work benefits Georgia by ensuring water quality and working to keep waterways in Georgia clean, protecting Georgia's environment. Students benefit by getting real-life work and experience in the field.
"It's quite complicated, and quality science, where they're taking what they're learning, in their actual classrooms, and applying it to real-world situations where we can actually use the data and what they're learning to make sure our streets and our community are healthy," Grabhorn said.
That, along with the useful practice and application of scientific and critical thinking skills, is the goal of the club.
"Our goal is to be responsible citizens that are making a positive impact on our community," Grabhorn said.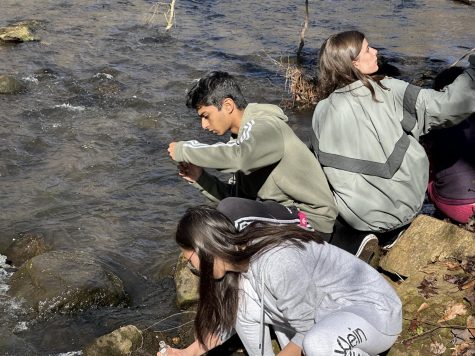 Ella Weldon, a sophomore, is a member of Adopt-a-Stream.
"Our goal for the club is to gain more members to help keep our streams clean," Weldon said.
Grahorn says Adopt-a-Stream is open to anyone with interest, from any grade.
"Anybody who wants to [do] hands-on science. They have to have a love for what they're learning, what they're doing, and a passion to make a difference and have a positive impact on our environment and be ready to take what they learn in the science classroom and apply it in the field," Grabhorn said.
While the club does involve skill practice and work, it's also a community of people with similar interests who enjoy what they're doing, and are having fun.
"My favorite part about the club is the people. Everyone is kind, including our sponsor Mrs. Grabhorn, who makes every meeting fun and productive," Weldon said.