Former McIntosh Trail Member from 2012 Visits Class
Zara Morgan, Managing Editor/Features Editor
September 9, 2021
Lindee Link was a former member of the McIntosh Trail during the 2012-2013 year. From the Trail, she went on to pursue a career in music under her given name. She released singles under this name from 2013-2018. Some of her songs include "Moonlit Dock," "Falling," and "I Know Better."
Her career in music started at a very young age. Link says, "I feel like every kid has this dream of, 'Oh I want to be an astronaut' or 'I want to be a pop star.' You have these big dreams as a kid, for me it was always something in entertainment. I loved music, I loved acting, I loved dancing. Even though I couldn't do any of those things except music I just loved entertainment in general. So it was just a childhood dream I wanted to pursue."
At 8 years old, she was featured in the ensemble in one of the "VeggieTales" albums. "VeggieTales" is a popular Christain show made for kids depicting stories from the Bible, such as "Dave and the Giant Pickle," along with other things such as "The Toy that Saved Christmas."
At age 11, Link then moved on to be a part of "The Disney Collection," a series of CD's that included the most popular songs from Disney's theme parks, television series, and movies. She sang in "Alice in Wonderland," "Sleeping Beauty," and "Aristocats" among other titles.
Once she reached 12, she was able to sing for bigger companies such as Build-a-Bear Workshops and Kohl's Department Store. Link even started to get into songwriting. She wrote "New Kid in Town" and the song was debuted by Delta Air Lines with 3,000 initial listeners.
"I was very young when that happened. I was 12 years old, so it was of no doing of my own," says Link, "My mom was like, crazy businesswoman, very ambitious, very persistent, and she was very good at just finding the right connections that she needed to make… I don't know exactly how she did it, but I know that she's a boss lady."
During her time on the Trail, Link was best known for writing arts and entertainment. Some of her articles include stories about "Iron Man 3," Demi Lovato, and Taylor Swift.
Link says, "[The Trail] pushed me out of my comfort zone to go talk with people I maybe didn't know. I wasn't a super talkative person in high school, like, I was kind of the sort that just sat at the back of the class, so it definitely pushed me to go have conversations."
Along with her arts and entertainment writing, she also posted many music videos on the website. She did a cover on "Kiss You" by One Direction at Junction Lanes as well as a cover on Taylor Swift's "22." She filmed many of these videos along with her friends and used her mom to film. She was also able to film at places like Booth Middle School.
Link says, "I think it was through one of my mom's friends who was on the school board and talked to the principal there and asked if … we could go and film all the hallways [that were] empty and use one of the classrooms. He said yes, so I just gathered some friends, and wrote out a script and my mom was the one who filmed all of my videos. So it was just me and my mom and my friends."
Besides covers, Link was also known for releasing covers for the popular sandbox video game, Minecraft. "This was when [Minecraft] was just starting out," says Link, "I had no idea what I was singing about. I just sang the words, and it blew up from there."
Link's advice for those wanting to join the entertainment industry is: "There's no one path to getting into entertainment. It's kind of like the wild west out there. There's no set of steps where you do this, and you do this, and then you're in the entertainment industry. It's kind of carving your own path and networking. Networking is incredibly important. Just making friends with people and making those connections because you never know who's gonna end up where."
Currently Link has been taking a step back from the spotlight to work more behind the scenes. "Over the last year or so I've actually been trying to take a step back from that. After getting married, and having different life shifts I wanted to be more on the behind the scenes of the industry rather than in the front, trying to be an influencer and putting out music and all of this stuff," says Link.
Link says, "I've kind of shifted to doing social media for other people. I work at a company right now called Crowd Surf, and they're a digital marketing company. They do digital marketing for Selena Gomez, Camilla Cabello, Olivia Rodrigo [and] a lot of different people. I joined them a few months ago, and now I'm just taking what I did for myself and applying it to help other artists."
Link advises current McIntosh students to "be persistent and get creative. No doesn't mean no forever… You're gonna get a lot of rejection and that's okay… Don't be discouraged by rejection, just get creative with it. There's no right way to do it."
About the Writer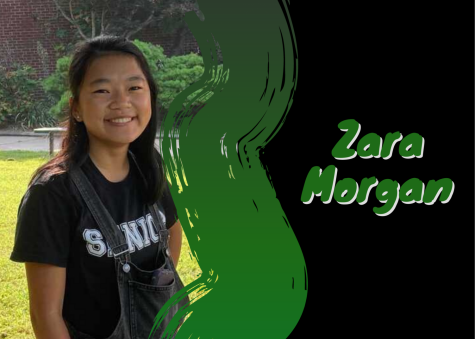 Zara Morgan, Managing Editor/Features Editor
Zara Morgan is a senior in high school and has been on the McIntosh Trail Staff since the 2020-2021 school year. This is her second year on staff and her...