Feature: "Donut Worry"
Donut Worry is a new doughnut shop in Peachtree City located in the shopping center to the left of Publix. Donut Worry has been open for business since Oct. 15, 2020. The Donut Worry in Peachtree City is the business's second ever location, with their first location being in Lawrenceville. The shop is run by Lakhena Long and the employee interviewed is Sophal Chhim.
The reason that Long decided to open another location in Peachtree City, according to Chhim is, "[There is] really, like, no donut shop around here. And we're just trying to open, you know, a certain location that doesn't have any, like, donut shop around. So, yeah, we kind of looked through and then we happened to find Peachtree City."
The difference between Donut Worry and competitors is their prices. Chhim told me, "We just try, and sort of be, you know, affordable. We just wanted to make sure people could actually buy donuts… We're just trying to keep it low for people."
Another thing to note about the bakery is that everything is made fresh in house early in the morning. According to Chhim, "Our baker has to be here at one in the morning." This means that the baker arrives at the bakery four full hours before opening in order to get everything prepped and ready for the day.
While donut is in the name, you can also enjoy "bubble tea drinks, coffees, hot and iced, and, like, cappuccinos, breakfast sandwiches that are made up here," says Chhim.
Donut Worry received a 4.7/5 stars according to Google Reviews, and the comments have been mostly positive.
One of the few complaints that I noted was by Eihwazone, a "Local Guide." Eihwazone, a "Local Guide" noted about the donut shop running out of a particular donut. He said, "They never have enough jelly filled donuts, you can get there 30 minutes after they open and they 'happen to run out'. What's a donut shop without donuts? I have to admit my disappointment is that they never make enough!!!!! But I can't deny the donuts are better than the competition."
This comment about Donut Worry not having enough donuts can be confirmed by a customer that was there the same day I was. Terry Morgan said, "When I came, there was a lady out front handing out menus, and apologizing to potential customers about being sold out of donuts."
Despite this misgiving, customers still come back to Donut Worry because of both the flavor and the experience. Malcolm Gavin, another "Travel Guide", says, "Quaint, intimate and overall awesome!!! The staff make you feel welcome from the moment you walk in and the food pits them over the top."
According to Chhim, "It's a family owned business. So we are not, like, a big chain or anything, so we just try to expand… We are just trying to keep it as local as we can."
About the Writer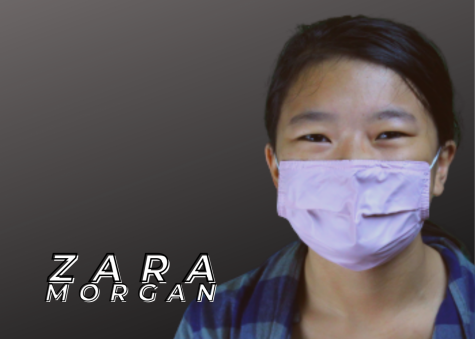 Zara Morgan, Staff Writer
Zara Morgan is an 11th grader, and this is her first year on the MHS Trail. She wants to learn more about staying up to date with current events and wants...