Junior Libbie Larsen Goes to London for Politics Essay
Yunju Lee, Features/A&E Editor
November 4, 2019
Students at McIntosh spend their summers in different ways, such as going on vacation, attending a summer camp or just hanging out with friends. Last summer, junior Libbie Larsen entered an essay for the John Locke Institute.
According to the John Locke Institute website, essays were judged by a panel of nine examiners from Oxford, Cambridge, Princeton, Harvard, Chicago and NYU Law School. Judges read essays from seven subjects: Philosophy, Politics, Economics, History, Psychology, Theology and Law. There were almost 1000 entries from 68 different countries. 
"I did Politics and answered the question, 'How much should we care about social cohesion?'" said Larsen. "In early September, they settled on the short list, and because I was a Politics finalist, I got invited to Oxford."
And so, Larsen left for Oxford. She left Sept. 18 and arrived in London the following day. While she was there, Larsen toured London with her family. They had time to explore London at the beginning and end of the trip.
"England was good, I spent a few days in London and got to see things like the Tower of London, which was really cool because we learned a lot about the historical events associated with it in AP World," said Larsen.
On Sept. 20, Larsen took a train to Oxford for the essay dinner and ceremony. Winners were announced at Oxford. 
"Oxford was amazing," said Larsen. "We had a reception in the medieval cloisters and then dinner in a 14th century hall. The stone at the entryway had a groove worn in it just from people walking in over the years which was absolutely insane."
At Oxford, Larsen had the opportunity to attend a workshop on social cohesion led by an Oxford professor with other participants, as well as another workshop on politics. The workshops took place on Sept. 21.
"We had one workshop about the topic we wrote on," said Larsen. "So for me, a group of us sat down with an Oxford professor and talked about social cohesion's meaning as well as the definition of states, and how those things interact. We had another workshop across the political category, where we talked about essay writing and how to craft better documents."
According to Larsen, she learned a lot about social studies and politics, specifically about topics that weren't generally discussed in school. 
"I had absolutely no clue what social cohesion was before I googled it," said Larsen. "I also got to see the interplay of a myriad of social studies topics, as in my essay, I was pulling concepts from international relations, Chinese history, current events, and sociology, blending them into one paper."
Larsen also believes that this opportunity showed her the importance of going out and doing something, even though she wasn't confident. She wrote this essay in two days and asked her teachers to proofread it a few hours before the deadline.
"We'd never talked about social cohesion in school before, and my thesis was quirky, to say the least," said Larsen. "But I submitted nonetheless and ended up doing pretty okay. After all, if something doesn't terrify you, are you really being bold enough?"
About the Writer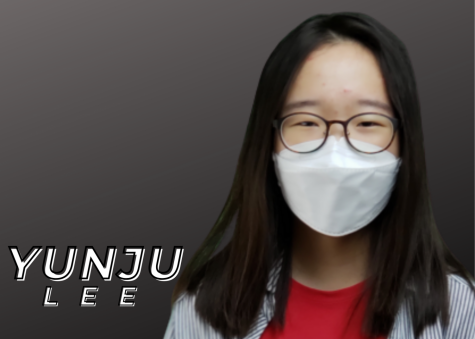 Yunju Lee, Managing Editor/Features Editor
Yunju Lee is the Features and Managing Editor on the McIntosh Trail. This is her third year on the staff and her second year as the Features and A&E...