Senior legacy: Sylvie Call
Hang on for a minute...we're trying to find some more stories you might like.
How have you made McIntosh a better place, what was your contribution to campus? (sports, personal relationship, etc.)
I've been in the Color Guard for four years and I was a co-captain this past season. I've been an editor of MisChief, which is the literary magazine, and I've been the editor for the Trail for two years.
How have you made the McIntosh Trail a better program, what was your contribution to the program?
I've been the arts and entertainment editor for two years. I would like to think that I've been able to bring more attention to the arts program and the art stories that are at McIntosh. And with my seven-period day article, I had to go through a lot of digging. I like to think that that would also give people or up-and-coming staff members the motivation to stick with the story if they're really interested in it.
What college do you plan on attending?
I'm going to be going to Emory University. I'm going to be going to the Oxford campus for the first two years and then I'll transfer over to the main Emory campus for junior and senior year.
What will you be studying?
It's kind of a toss-up. Emory doesn't make you pick your major until your junior year, so I'm considering different English careers. Journalism and creative writing are the ones that I'm looking at, but because Emory is such a science school, I'm also going to be looking into Biology–like molecular biology and genetics and things like that–just to kind of see if that's something that I'd also be interested in doing.
If you have plans other than college, what are they?
I don't really have any plans other than college. I am going to try to get a newspaper internship over the summer just to kind of see if this is something I want to continue outside of high school.
What are some words of wisdom you have for returning staffers or newcomers to the Trail?
I think that a lot of people take this class because they think it's going to be easy and that it's something to just help them fill up their schedule but it's a lot more than that. I think it's important for people to recognize that you have to put in effort and that you need to persevere with your stories and do what you need to do. I think it's important to make the most of the experience they have.

About the Writer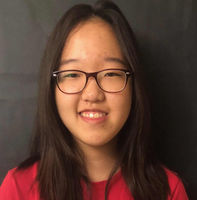 Yunju Lee, Staff writer
Junior Yunju Lee is the Features/Arts and Entertainment editor of the McIntosh Trail. This is her second year on the staff, and she is looking forward...