Senior Twins Say their Goodbyes to MHS
With graduation quickly approaching, seniors are preparing to go out into the world and part ways with their McIntosh ties. However, some Chiefs will be severing ties with McIntosh in more than one way. These Chiefs, despite the small fraction they make up of their class, are the graduating twins of McIntosh. The senior student body includes eight sets of twins: the Bertrams, the Cates, the Halls, the Ogles, the Pettys, the Rohns, the Rotolos, and the Zuzeks.
However, graduation doesn't necessarily mean separation for every set of twins. Both the Bertrams and the Pettys have chosen to go to the same colleges. The Bertrams will be attending the same university, but pursuing different majors.
Bertrams' Bon Voyage
Senior Conlan Bertram noted that going to high school with his twin brother, Brendan, had its perks. Along with "being able to work on assignments with someone," his brother has also been "a person who understands." Likewise, Brendan described having a twin as "one of the best-hidden blessings." Brendan explained that as he and his brother were growing up, they began to develop different interests, but, throughout high school, were typically placed in the same classes with the same teachers. Brendan concluded, "As I'm getting closer to graduation, I'm getting ready to say goodbye to my family and go off to college, but plan on going to the same college as Conlan."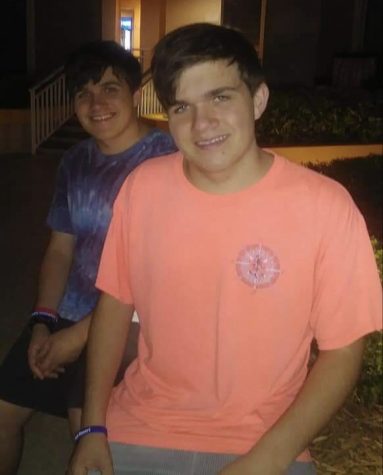 Pettys Plan on Georgia Southwestern
The Pettys will also be attending the same college, but pursuing different majors. Daisha Petty explained she and her brother have a tight-knit relationship: "We are very close and protective of each other." She also explained that it's comical when people initially find out she and Trey are twins. After their time shared at McIntosh, they'll be attending college together. "I plan on majoring in nursing and he wants to major in information technology, which are two very different choices," said Daisha.
Rotolos Ready for UNG and GSU
Aside from the senior twins that will be heading off to college together, there are a few sets of twins that are anxiously awaiting graduation and the separation that it will bring. The twins looking forward toward starting at a school without their twin are the Rotolos and the Cates.
It's no wonder that these twins are ready to part ways as CassiDee Rotolo mentioned that ever since she could remember, she's had classes with her brother, Corey. She comically described their school years together as "almost being unable to get rid of him." However, ever since they got their schedules sophomore year and saw that they were in store for four classes together (after being unable to change it), the Rotolos knew they weren't interested in going to the same college. However, CassiDee described their parting as "bittersweet," but explained that they're looking forward to going their own ways: "The both of us are incredibly excited to start the next chapter of our lives."
This next chapter consists of CassiDee attending UNG and Corey attending GSU. Both Rotolos are anxiously awaiting being at different schools after being together since their early elementary days at Kedron. Corey spoke of his excitement about no longer having to hear about his sister's "annoying school drama."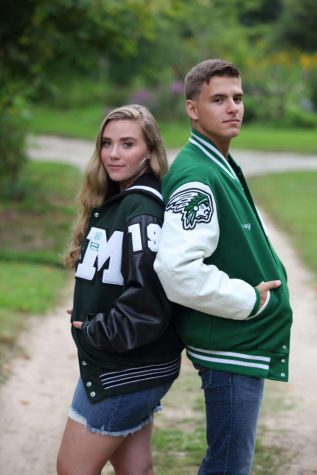 Cates Continue at GSU and Mercer
Not only are the Rotolos counting down the days until graduation and separation, but the Cates are as well. Ryan Cate said, "We both cannot wait to get away from each other." Ryan Cate will be attending Georgia State and Bennett will be furthering his education at Mercer.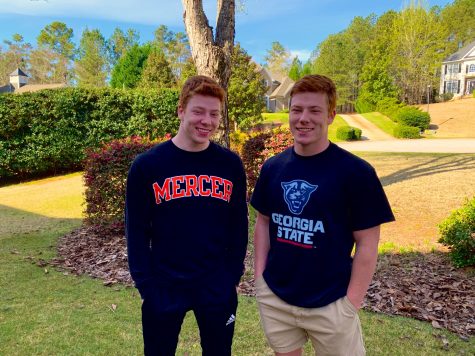 Zuzeks Zip to Kennesaw
The feeling of breaking free from siblings seems to be a popular trend amongst senior siblings. The Zuzeks can vouch for this firsthand. Originally, Taylor and Tristan had intended on going to different colleges. Taylor described it as the opportunity to "finally get away from the person that's been with me my whole life." However, as graduation drew closer, the two began to realize that they would prefer a more "gradual" separation as opposed to "parting ways all at once." Taylor will be continuing his education studying pediatric oncology and Tristan will be studying law.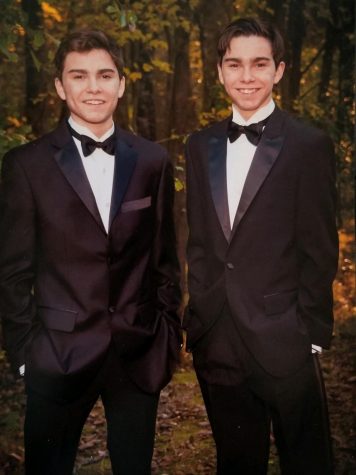 Halls Head in Different Directions
Just as many of their other fellow twins in the graduating senior class will be going their separate ways, the Halls aren't an exception. Jermal Hall described growing to school with his brother for the entirety of their lives as "an experience like no other." However, the Halls are ready to part ways. Jermal will be attending Louisiana State University and his twin, Jermaine, has plans on attending the military after completing his education at McIntosh.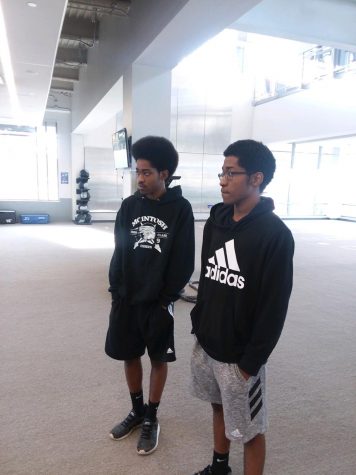 As graduation becomes closer by the day, each senior Chief will bid their final goodbyes to their McIntosh roots. However, it's up to each set of twins to determine if that means furthering their education alongside their womb-mate or by themselves.