Coach Newton Receives Coach of the Year Award
Hang on for a minute...we're trying to find some more stories you might like.
Coach Jason Newton won the 2017-18 State Coach of the Year award from the National Federation of State High School Associations. Newton is Head Coach of both boys and girls Cross Country and Track & Field teams at McIntosh High School, as well as a fifth grade teacher at Peachtree City Elementary. The Coach received the award in his mailbox at Peachtree City Elementary and was "happily" surprised by the content.
"I was a soccer player for most of my life and began running track in middle school," Newton said. "I was fairly successful in both sports in High School and had offers from several colleges. Being an 8-time state champion in track & field, I was given some excellent division one offers and decided to attend the University of Rhode Island."
Newton has a long history of coaching various teams, he helped out with the Danbury, Connecticut Special Olympics team during and after high school. After college, he coached High School track in Rhode Island with a former collegiate teammate. When he moved to Georgia, he continued coaching at Rising Starr helping with the sprinters. Moving to Peachtree City, he got a job at McIntosh, starting off as the assistant coach, focusing on the sprinters as well. The following year, he was the boys Head Track coach and worked with Coach Chuck Buckle in his last season. "He taught me quite a bit and after he retired I took over as head coach for both boys and girls Cross Country and Track & Field," Newton said. "Three State Championships later, I am looking to improve every season."
He expects the team to be competitive in the region and state every year. Newton hopes to take the program to the next level and compete more in southeastern and national competitions. He has noticed a few national qualifiers since he has been coaching at McIntosh, but wants to make it an annual event. Newton and the other coaches goal is to have the girls' cross country team qualify as a team.
"The teams have grown in numbers, goals, and dedication over the years," Newton said. "I have witnessed too many athletes come out as freshmen that were not very good, but graduate as varsity athletes." The Cross Country team is currently somewhere between 80 to 110 athletes, formerly around 60 athletes.  The track team had about the same numbers and they are continuously growing every year.
Newton believes that athletes in general should not only stick to one sport, but branch out to others as well. "Most NFL players ran track in high school and college," Newton said. "I thought soccer was my way to college, but track paid my way." In doing so, Newton believes that students might come across opportunities that they never thought could come there way. Therefore, they should trial and error other sports.

About the Contributor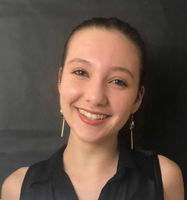 Anastasia Gonzalez, Staff writer
Anastasia Gonzalez is a former Legend Yearbook veteran of three years. She decided for a change she would join The Trail Newspaper Staff at McIntosh High...