First Semester Review: the Freshman Perspective
December has arrived at McIntosh, and the end of the first semester is here. With the first semester all finished up, freshmen around the school have different perspectives about their first semester in a brand new school.
"The biggest adjustment has been the social aspect," said Rabiu Agbaje. "I have met lots of new people and have lots of new freedoms. I love this part of high school."
"My first semester of high school has been a lot of fun," said Jackson Johnson, "I love going to events like the football and basketball games. There are… different social activities that we did not have in middle school."
Along with new freedoms sprouts new responsibilities. One of these responsibilities include final exams that may be more difficult than exams in middle school.
Two McIntosh trail staff members spoke about their newly acquired academic load. "I went to Booth. Exams at Booth were pretty straight forward," said Jordyn Mobley, "but here I'm kind of confused about what is going on."
"I feel like the academic load is more than it was at JC Booth because it's high school," said Nakia Harmon, "I'm really concerned about all of them [my exams] as a whole."
"McIntosh's new environment has been challenging, but it has been a lot of fun," said Catherine Bach.
About the Writer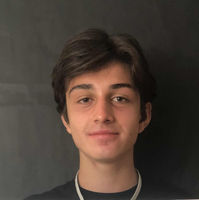 Bailey Lopez, Staff writer
When he is not competing in soccer matches or grueling debates, Bailey Lopez writes for the McIntosh Trail. Currently attending McIntosh for his fourth...