Eighth Graders Come to MHS for a Unique Football Experience
The marching band, cheerleaders, and football players hosted the annual "Eighth grade night" on Friday, September 7, to show off the rising generation of performers. The event serves as a way for eighth grade students at J.C. Booth Middle School to gain a small portion of the high school experience. It acts as a recruitment effort for students who are unsure whether they want to commit. The young cheerleaders and football players had a small performance during pregame, and the eEighth grade band students performed in the stands and on the field during halftime with the Spirit of McIntosh marching band.
MHS band director Ms. Barbara Baker went to Booth the week before to help conduct the high school stand tunes for the middle schoolers. They practiced their song "Louie Louie," and learned the stand tune "In the red zone," as well as the fight song. They played these songs in the stands, and during halftime, marched out onto the field with the high schoolers and played them there as well.
Eighth-grader Hannah Coleman has played the oboe for three years, and was unsure about joining the marching band next year since the oboe is not a marching instrument. However, she said that she was encouraged to see assistant drum major Brooke Owen playing her oboe solo during the first movement of this year's show. "My favorite part of Eighth grade night was when the marching band gave us a preview of their show," Coleman said. "It was awesome to be able to see the show up close and get to talk to the band members and hear how much they enjoy being a part of the marching band."
About the Writer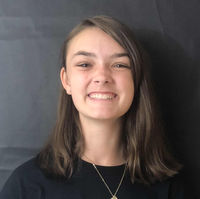 Sylvie Call, A & E Editor
Sylvie Call is a senior at McIntosh and has been with the Trail for three years; this year marks her second as the Arts and Entertainment (A&E) editor....