AP Human Geography Summer Travels in Europe
Hang on for a minute...we're trying to find some more stories you might like.
AP Human Geography students traveled around Europe this past summer guided by teacher Whit Jones. The group traveled to Switzerland, Italy, Monaco, France, and Spain learning about European history while eating a lot of gelato!
Mr. Jones had been planning this trip for two years. When it finally took place it consisted of 14 girls: a sophomore and 13 seniors. The 14 girls were able to build a "fantastic relationship" says Ashton Sherman, during the two weeks.
"My parents thought this trip would be a once in a lifetime experience and fully supported me. I majorly overpacked because I didn't know what kind of experience Europe would be like." Sherman said she did in preparation for the trip.
"My extended family sent me money, but for the most part it was a senior gift from my parents," said Brooke Ranire.
The group was able to experience other culture and expand their personal horizons by trying new foods and speaking to locals from a variety of new places. "In general my whole class is (about) understanding the world and becoming a noble citizen and understanding the world and to do that you have to experience other cultures," said Mr. Jones.
Their tour guide, Sonia, woke the group up every morning by singing a song in the native tongue of the country they were visiting. Some girls new the songs from their Spanish classes and sang along.
"As the only freshman, at first, I was a little nervous to see how the other rising seniors would treat me," said sophomore Ashton Sherman, "Fortunately, I was able to fit right in with everyone else and make friends pretty easily."
A highlight of Mr. Jone's trip was visiting a town called Cinque Terra. "Cinque Terra are these five little villages in the coast of Italy," said Jones. "You could explore them and they were each unique in their own way and you could see the different culture of each place."
Barcelona was a hit with the students because many of them had taken Spanish at McIntosh and they were "excited to put it to use," according to Mr. Jones. In Spain, they ordered from street vendor's using their Spanish and had small conversations with locals.
This trip is an exclusive invite to his students only. Mr. Jones wants to have a relationship with the kids beforehand, "I do this because there is a lot of responsibility and making the right choices along the trip and I want to know the kids. The last thing I want to do is send a kid home from Europe."
Jones wants new experiences this year and is planning other travel experiences. The trip last year roughly cost $4,400 for two weeks but is expected to be cheaper this year due to Jones wanting more students to have the opportunity to go. For anyone who is thinking about attending the trip, Sherman says, "I would say go for it. It totally changed my view on the world and I would want everyone to experience what I got to."
Ranire adds, "Definitely consider going on the trip! It is an amazing experience and Coach Jones will surely make it fun!"
Jones has recently revealed the group will be traveling to Costa Rica summer of 2019.

About the Writer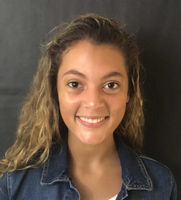 Katrina Skonberg, Opinions Editor
Writer Katrina Skonberg is the McIntosh's Trail Opinion Editor for her second year. Outside of journalism, Katrina runs for cross country, swims on McIntosh's...