Welcoming the New Principal, Dr. Dan Lane
Yunju Lee, Managing Editor/Features Editor
October 3, 2018|322 Views
Freshmen are not the only new addition to McIntosh; the administration has also welcomed a new principal: Dr. Dan Lane.
This year marks Lane's 29 year as an educator and 27 year in Fayette Country. He started teaching in 1989 at Vidalia Comprehensive High School and then moved to Fayette County as a choral and general music teacher at Whitewater Middle school. He has also taught at Starr's Mill High School, Sequoia Middle School and Fayetteville Elementary School before joining McIntosh as an assistant principal, testing coordinator, and registrar. After six years, he was promoted to principal at Fayette County High School and stayed there for five years before returning to McIntosh as principal. He is excited to return to McIntosh.
He is also the father of two former Chiefs. "Both of my children went to McIntosh. [I] was both a McIntosh staff member and a McIntosh parent, so I definitely had a connection [here]," he said.
"One thing a lot of people don't know about me is that I am a thrill seeker." Outside of school, Lane enjoys roller-coasters, zip-lining, and skydiving. He is interested in travel and is a big Disney fan. "One of my bucket list items is to visit every Disney park in the world, and I'm doing pretty well," he explained. He has been to the parks in Orlando, Florida; Anaheim, California; Tokyo, Japan; and Paris, France. "I only have Hong Kong and Shanghai to go," he said. He also loves to read and waterski in his spare time. "Anything that gives me that adrenaline rush," he clarified.
Lane believes that the best part of McIntosh is the students. "We have exceptional students here that work hard, are very talented, and are very willing to use their talents to compete in academic competition, to perform on the stage, [and] to show their talents on the athletic field," he said.
He wants students to know that he is student-centered, and he encourages students to connect with him. "I want to connect with the students here at our school," he explains. "That's why I have my own professional twitter." Students can contact him through his account @chieflane.
Other administrators agree that Lane cares about the students. "In the brief time that I have worked with Dr. Lane, I would say he is the most student-centered leader that I have worked with in my 26 years as an educator," said assistant principal Daniel Lakly. Assistant principal Oatha Mann added, "He wants to create the best learning environment for every student under his supervision."
Lane is aware of the student concern about tests and homework. Junior Danijela Fechushak describes school as stressful. Sophomore Oluwateniola (Teni) Sanusi agreed that she receives a lot of stress because tests are too close to each other. "Somedays I have no tests, other days, I have three," she explained. Lane expressed that his wish for McIntosh is to continue to be a high-achieving academic school but with a balance between work and the students' emotional well-being. "Usually when you tilt one way very strongly, the other gets minimized," Lane explained. "I want to figure out a way that both social and academic well-being can work hand in hand."
Lane wants to make sure that the students are not afraid to connect with someone in the building, whether it is him, another administrator, or a teacher. This year, he wants to spread the hashtag #Bethe1MHS. "I want every single student to connect with an adult in our building," he stresses. His vision is to create a community in the school where the adults and students are comfortable and there for each other so that both groups would want to go to school to learn or teach. "By being the one that we need to be for each other," he concludes, "we'll build that positive community. So don't be afraid to connect."
About the Writer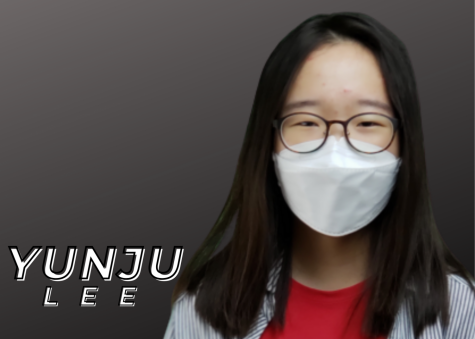 Yunju Lee, Managing Editor/Features Editor
Yunju Lee is the Features and Managing Editor on the McIntosh Trail. This is her third year on the staff and her second year as the Features and A&E...