Students of McIntosh: Style Icons
Hang on for a minute...we're trying to find some more stories you might like.
McIntosh has a wide array of students, differing in backgrounds, personalities, and culture, which ultimately means a wide array of fashion choices among the student body. Two specific students who stand out with their fashion choices are juniors Danny Blue and Mikey Bitten. The two differ their style choices and give credit to their inspirations including Bianca Chandôn, Raf Simons, and Rick Owens.
While the two dress somewhat alike, but also very different, they can agree on one thing: "MHS students need to stop wearing mom jeans. And especially cuffing said mom jeans. Just because you tuck in your tee-shirt and wear high waisted mom jeans, that doesn't mean you have style. Style is deeper than that. Style comes from following your own trends."
However, they didn't always dress like this. The two believe their styles have highly evolved over their high school years. At this point, they are both comfortable in how they dress and Mikey even mentioned, "10/10 times if I'm not the best dressed in the room, I'm not in the room at all."
Sporting brands such as Supreme, DOLLYMIX, Thrasher, and OF, the two can be deemed as hypebeasts. Setting themselves apart from brands that attract more attention, such as Vineyard Vines, Patagonia, and Guy Harvey, the two have received admiration from the student body because of their outspoken fashions choices.

About the Contributor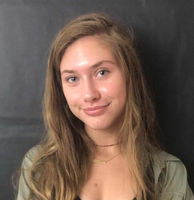 Arden Estep, Opinions Editor
Arden Estep is participating in journalism at McIntosh High School for her third year in a row. Last year, she enjoyed being the Opinions and Editorials editor, but this year she has taken on a new title as the Features Editor. Arden is the Treasurer of the Young Libertarians Club, a member of the Spanish Club, and a writer for the Kedron Living magazine. In addition, she has a part-time job at a local restaurant. Arden is optimistic for her academic career and hopes that she can manage her schedule well without losing too much sleep or crying too many tears her junior year.