MHS Marching Band Performs at Carnegie Hall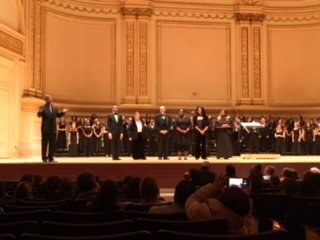 At the end of the marching season back in October, the Spirit of McIntosh Marching Band was invited to participate in a group of high school performances at Carnegie Hall. On Saturday, March 17, band students boarded buses to begin the five-day field trip to New York City. The drive took between 15 and 18 hours to complete, but the time spent in the city was a once in a lifetime experience.
Their first day in New York consisted of going to Rockefeller Center, St. Patrick's Cathedral, and a Broadway performance of the musical "Anastasia."
Abby Krikorian, a senior who served as one of the co-captains for color guard during the marching season, said, "I absolutely loved seeing Broadway's 'Anastasia.' The soundtrack and the actors were absolutely amazing."
Senior color guard member Madison Brown said, "The most memorable part of the trip for me was St. Patrick's Cathedral. I'm Catholic, and so just being inside the cathedral was absolutely breathtaking."
The second day, the students attended a clinic that allowed the band to practice the music that they would perform at Carnegie Hall the next day. Afterward, students went on a four hour walking tour with knowledgeable tour guides to beautiful sights, followed by a sunset dinner on a cruise ship. The tour consisted of many sightseeing opportunities, including Chinatown, Central Park, and Lincoln Center, among others. The Statue of Liberty made an appearance on the dinner cruise, completing the full New York tourist experience for many students.
The third and final day of the New York trip included two Broadway workshops; students would either work with Broadway violist Will Curry, practicing the song "New York, New York" by Frank Sinatra, or a dance class led by James Pierce, an ensemble member for "Anastasia," who taught students choreography to the show. Afterwards, students walked to the 9/11 memorial and the One World Observatory, and later they performed at Carnegie Hall.
At Carnegie Hall, multiple high schools from various parts of the country performed. Because there were different musical formats — there were orchestras and choirs in addition to the bands — the performances and awards given were not competitive. MHS received a gold award from Carnegie Hall, which will not be forgotten any time soon.
Junior Brett Goss, who was assistant drum major during the marching season, said, "Playing in Carnegie Hall was literally a once in a lifetime experience, and there's not a feeling in the world like performing there. I feel so blessed to have had that opportunity."
Band director Ms. Barbara Baker said, "Conducting at Carnegie Hall was one of the best experiences of my life as a conductor. The band played extremely well in this intimidating environment and earned the highest award."
Assistant band director Ms. Michelle Amosu said, "Playing in Carnegie Hall is a once in a lifetime experience that I believe no student would change. It not only helped their performance building, but playing in a performance space that grand is intimidating but truly rewarding."
Overall, the trip was a success, creating lasting memories, a special experience, and a unique way for students to improve their techniques and playing abilities.
About the Writer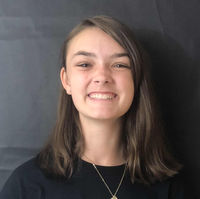 Sylvie Call, A & E Editor
Sylvie Call is a senior at McIntosh and has been with the Trail for three years; this year marks her second as the Arts and Entertainment (A&E) editor....