Students Welcome Fall
Hang on for a minute...we're trying to find some more stories you might like.
Now that the temperature has dropped down to the forties and fifties in the mornings, McIntosh students have, in turn, dropped their golf cart covers. Students can be seen driving their carts to school in the mornings, swaddled in blankets, shivering in the crisp weather that has made its way down to the Bubble.
This cold weather is reflected in the wardrobes of students. In the halls, Birkenstocks and Chacos are being spotted less and less. Instead, boots are making their debuts. Flannels and scarves have also been seen among the students, and even fuzzy socks are popping up.
These cold weekends have revived a few fall favorite trends. Students are carving pumpkins, roasting marshmallows and hot dogs over fires, overcaffeinating on Pumpkin Spice Lattes, being spooked in haunted houses, having movie marathons, and cooking up some warm, seasonal treats to beat the chilly weather.
One of the most popular activities to take part in this time of the year is carving pumpkins. In the lead up to Halloween and Thanksgiving, students' weekends are being spent visiting patches and orchards, gutting pumpkins, cooking their seeds, and designing spooky faces on them.
Chilly conditions have recently sparked students' desires to stay nice and toasty. And what better way to do so than gathering up some friends and roasting s'mores over an open fire! Students have also turned to grabbing coffees, specifically Pumpkin Spice Lattes, to aid their drives to school in the cold. Because this item is being sold as a seasonal beverage, students are seeing all the more reason to dash to Starbucks in the morning and warm up with their favorite drink on the menu while also making the most of its remaining time.
But perhaps there is just one fall festivity out there that beats anything pumpkin related. (Apologies to all the pumpkin carving fans.) Haunted Houses top it all. Newnan's 13 Stories, Norcross' Netherworld, and Atlanta's Fright Fest of Six Flags have been some of the more popular attractions with McIntosh students this year. 13 Stories is serious about their spooks, as one of their events requires the brave souls to sign waivers before entering. Netherworld lives up to its name, as the attraction has been awarded with 19 titles including Scare Factor's "Highest Rating Haunt," Dread Central's "Terrifying Top 13 Haunted Attractions," and Fangoria's "America's Best Hometown Haunts." Fright Fest has also managed to draw in crowds once again this season.
Another favorite activity this time of year is watching movie marathons. With seasonal classics like "Halloweentown," "The Nightmare Before Christmas," "Hocus Pocus," and "It's the Great Pumpkin, Charlie Brown," there's plenty to enjoy for everyone in the marathons on T.V. Each of these movies are perfect, in their own ways, for getting into the spirit of fall.
The grand finale is, of course, fall foods. After all, who doesn't appreciate a warm mug of apple cider or a slice of pumpkin pie topped off with whipped cream? Other favorites are caramel apples, bowls of chili, and squashes. Some students prefer to simply pop some Pillsbury Shape Sugar Cookies into the oven.
With all these trends only growing in popularity as Halloween, Thanksgiving, and other holidays approach, we encourage you to get into fall spirit by picking a pumpkin, roasting a marshmallow to golden perfection, trying a Pumpkin Spice Latte, checking out a haunted house, watching one of the many movie marathons on t.v. movies, and baking a pumpkin pie. If you don't do it soon, you'll have to wait for these trends to return next year!
About the Contributors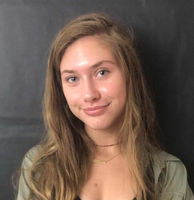 Arden Estep, Opinions Editor
Arden Estep is participating in journalism at McIntosh High School for her third year in a row. Last year, she enjoyed being the Opinions and Editorials...