Newspaper students celebrate year at Your Pie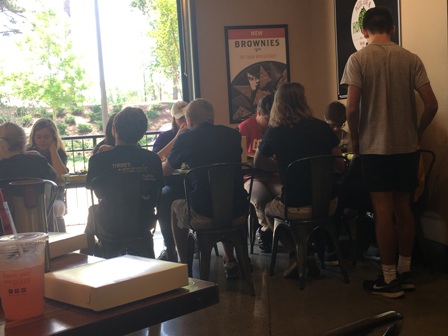 Hang on for a minute...we're trying to find some more stories you might like.
Newspaper students have worked hard this year on the online newspaper (mhstrail.org) and the print edition. All year, students and teachers enjoyed reading the print issue every month and seeing all of the events going on at McIntosh. To celebrate all of the hard work they've done and to honor the seniors leaving McIntosh this year, the students had lunch at Your Pie on Wednesday, May 17.
Senior and newspaper Editor-in-Chief Jackson Fuentes said, "It was a lot of fun celebrating at Your Pie with everyone in the class. I have enjoyed being a part of the journalism class and leading them throughout the year."
Freshman Davis Roberson said, "I can't complain; it was a downright tasty lunch."
Sophomore Kamryn Torr said, "I enjoyed celebrating our seniors and upperclassmen editors. They helped a lot when it came to laying out the paper and so much more. I am going to miss them."